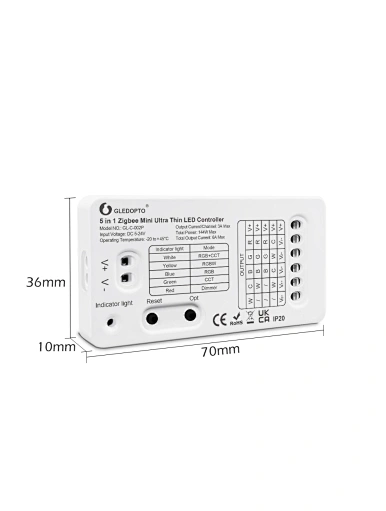 RGB CCT dimmer waterproof fireproof smart led strip controller wifi 5 in 1 LED controller
price
$7.19 - $8.59 / piece
Warranty(Year):2 Years
Lighting solutions service:ZigBee Smart Home Solution
Product Weight(kg):0.036
Place of Origin:Guangdong, China
Brand Name:Gledopto
Max. Load Power:144W
Remote Distance:≤25 Meters
Work Temperature:-20°C~60°C
Certificate:CE RoHS
Size:70*37*10mm
IP Rate:IP20
Control method:APP or RF remote control
Total Output Current:6A Max.
Protocol:ZigBee 3.0
Material:Fireproof ABS material
Gledopto GL-C-002P Mini ZigBee 5 IN 1 LED Controller
Compatible with ZigBee Tuya Bridge, Philips Hue, Osram Lightify, SmartThings, ConBee II, Terncy, Hubitat, Homee, Amazon Alexa, etc,.
Matching with 5-24V DC RGB, RGBW, RGB+CCT, CCT and single color led strip light/ led tape light/ led neon flex light or other low-voltage led products, need a DC5V or DC24V output voltage power supply/ transformer/ power source which is according to the input voltage of led strip light/led tape light/led neon flex and other led lamps you purchased.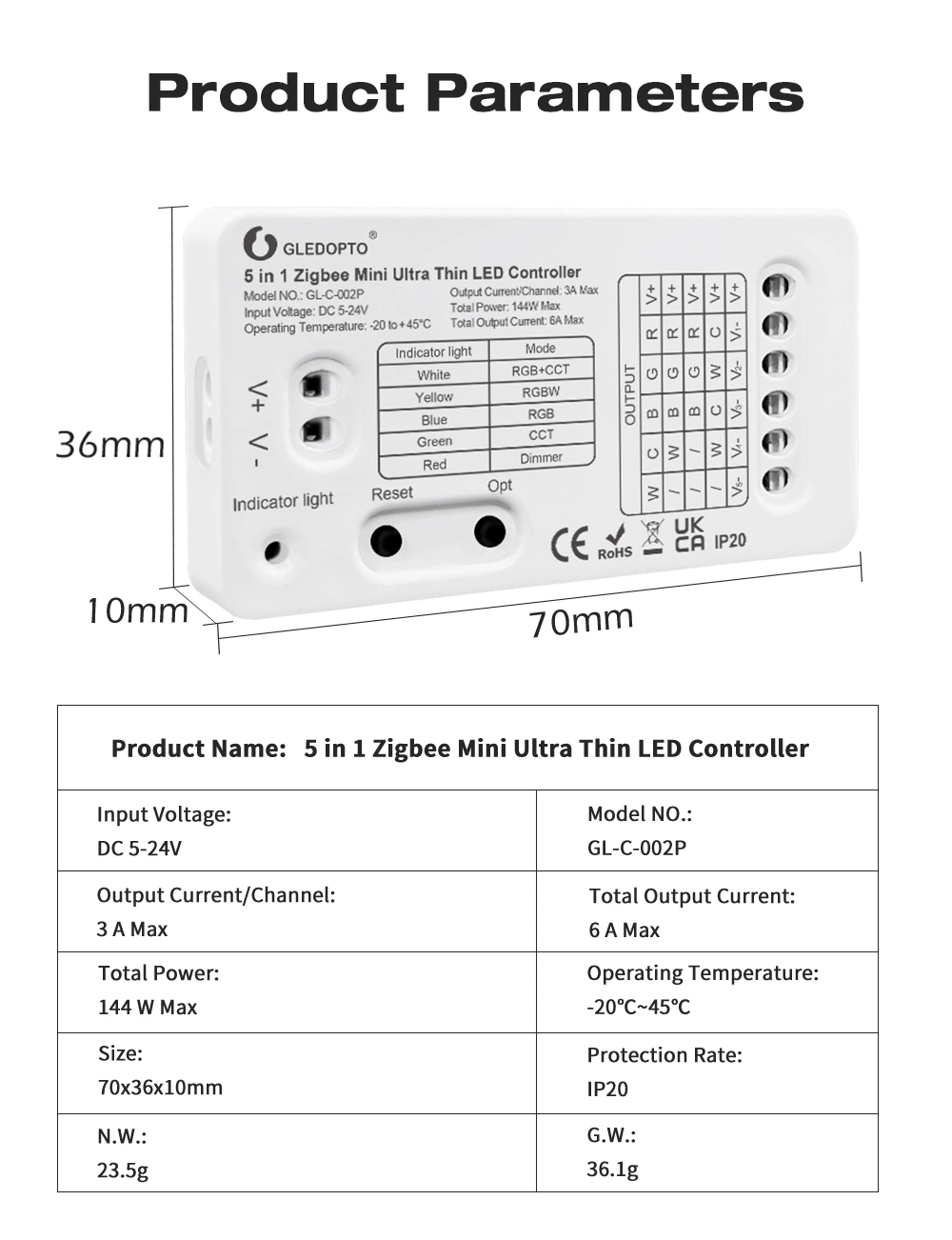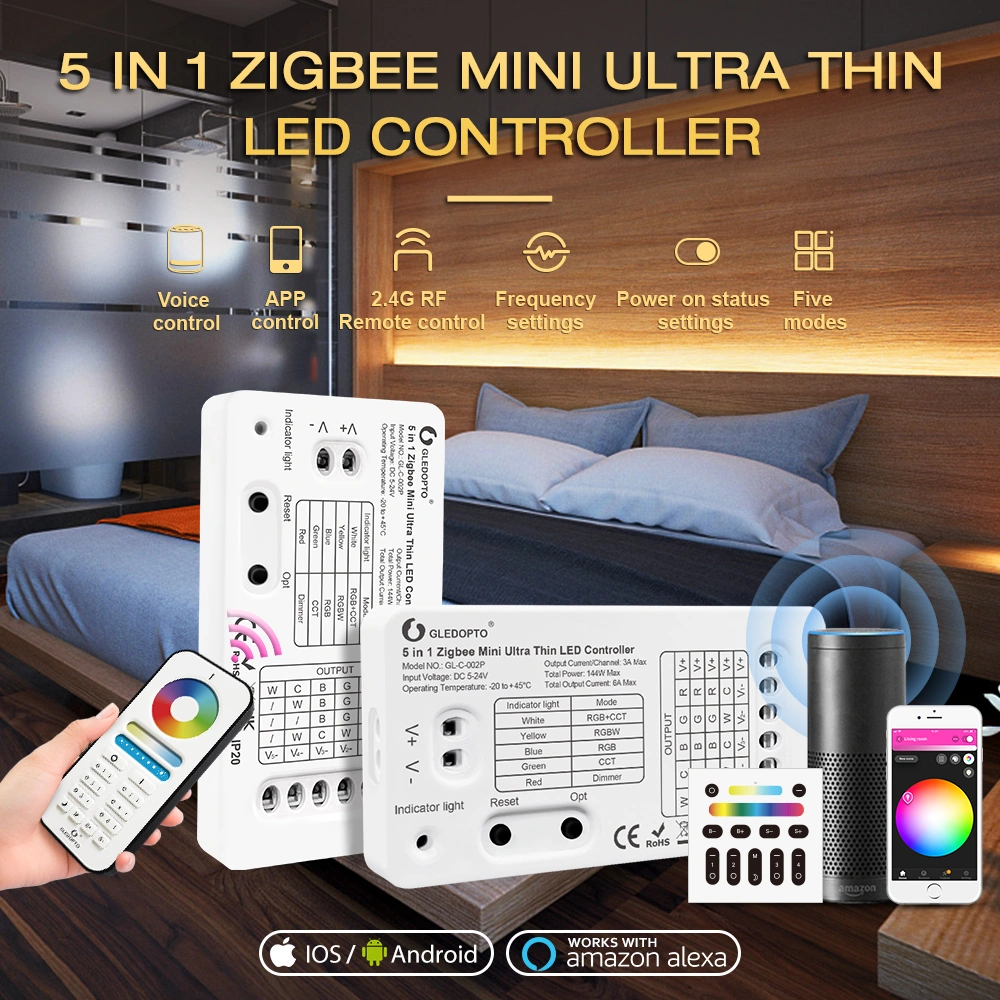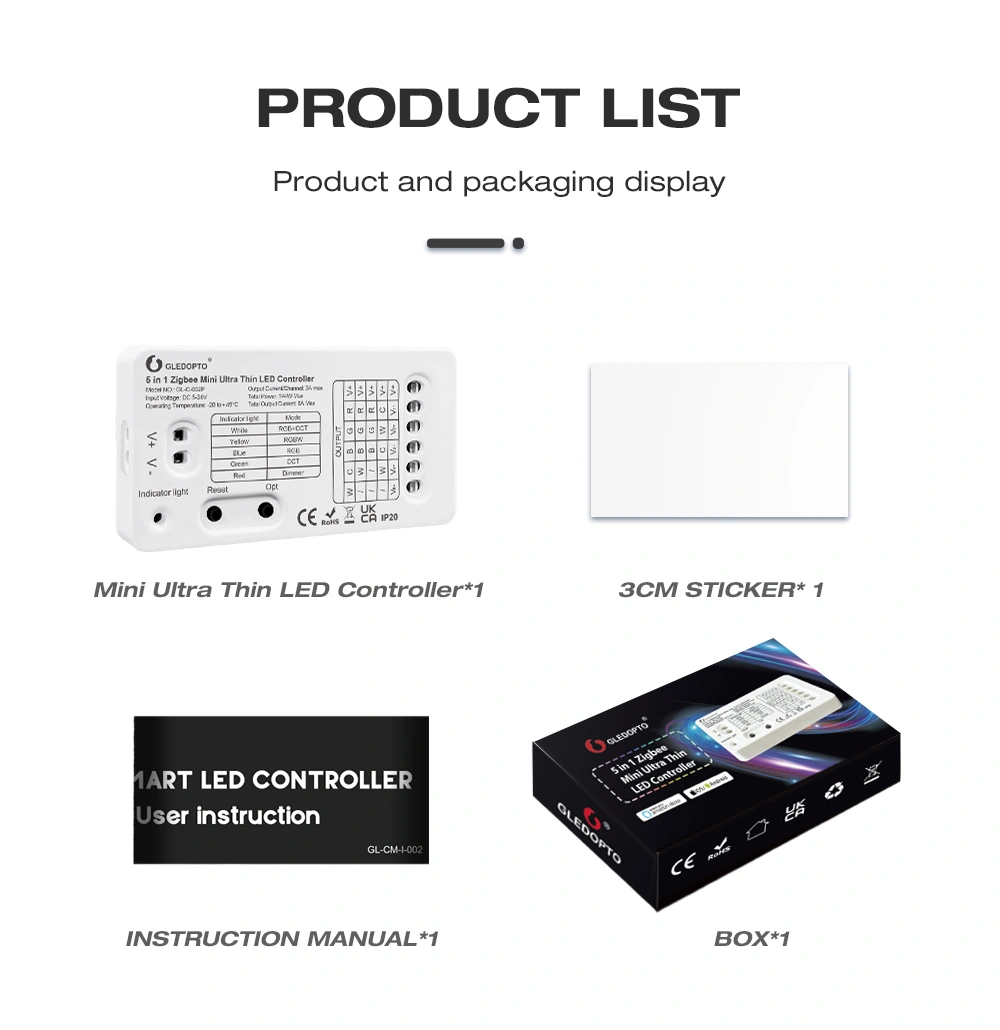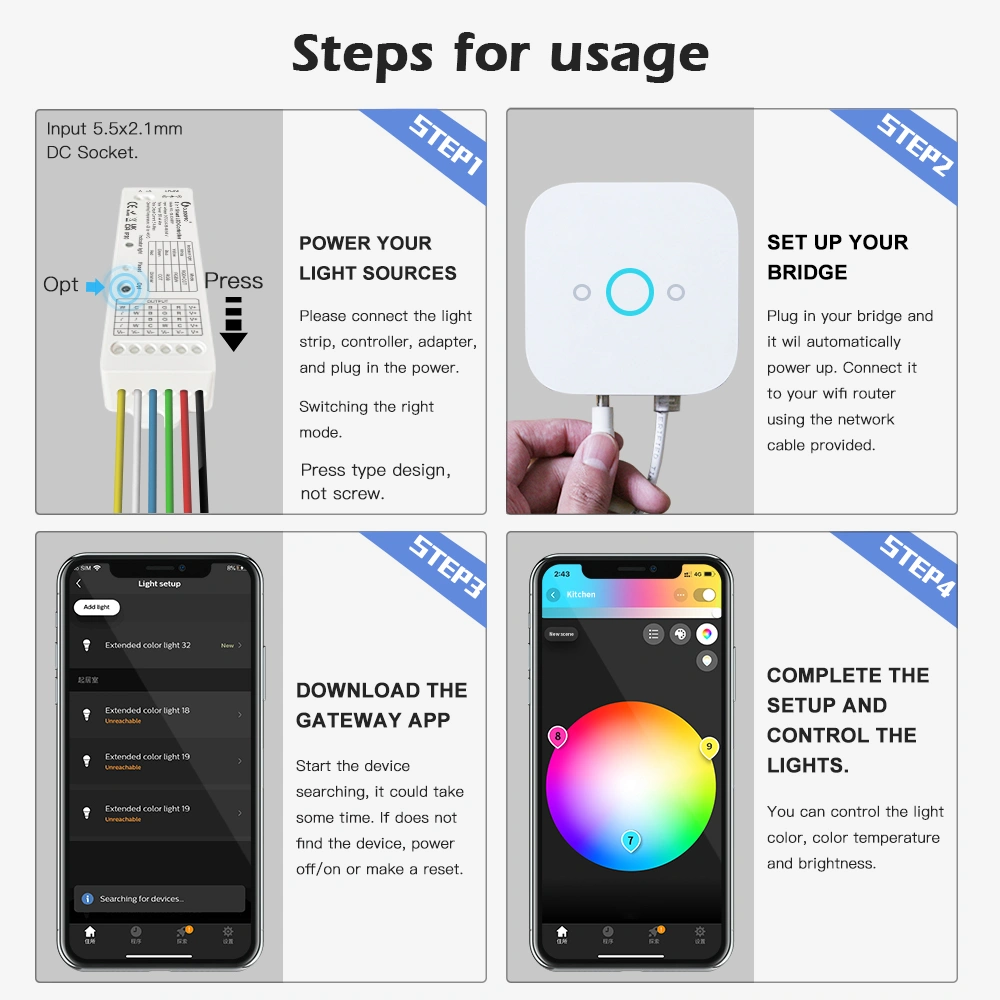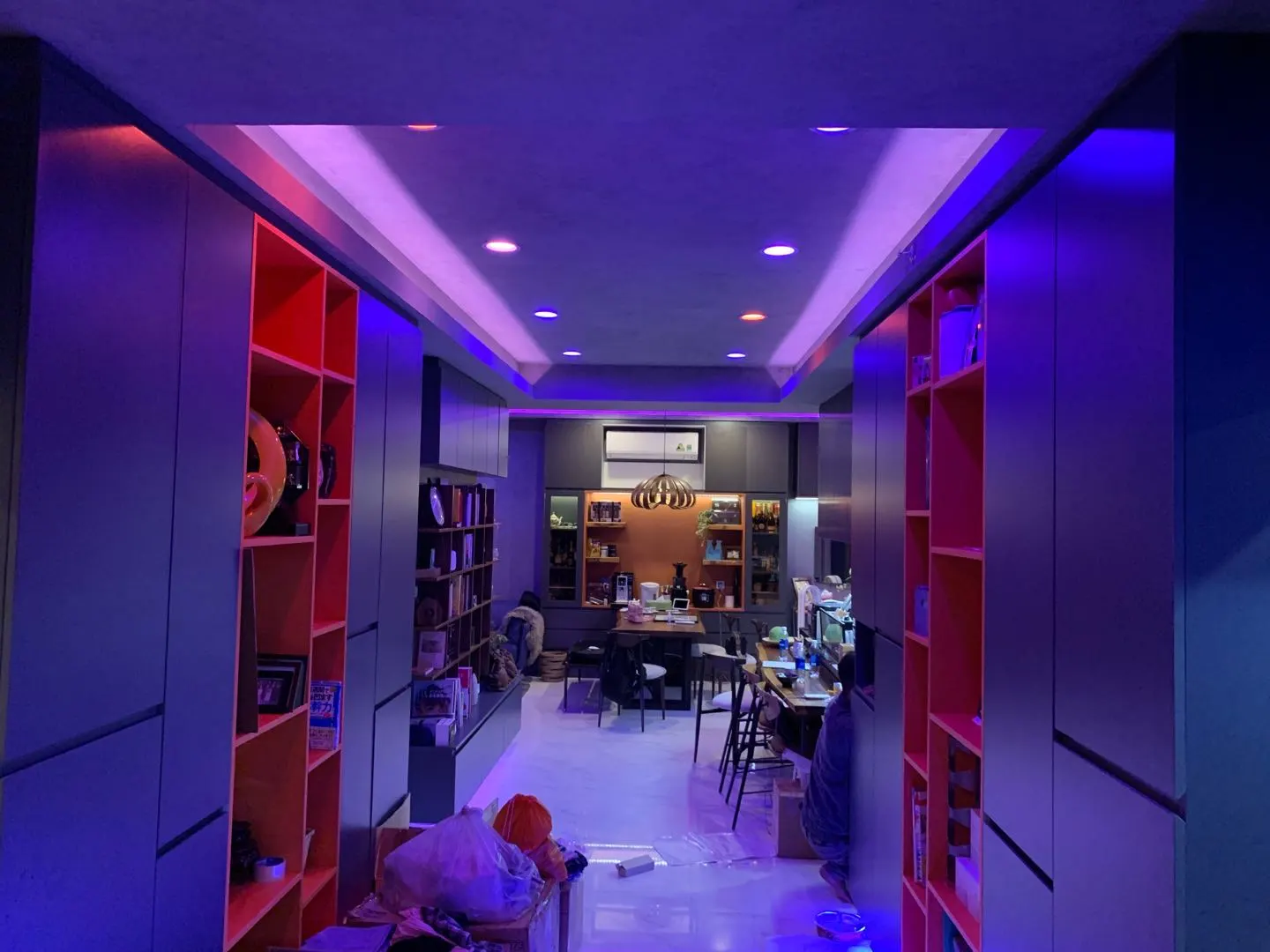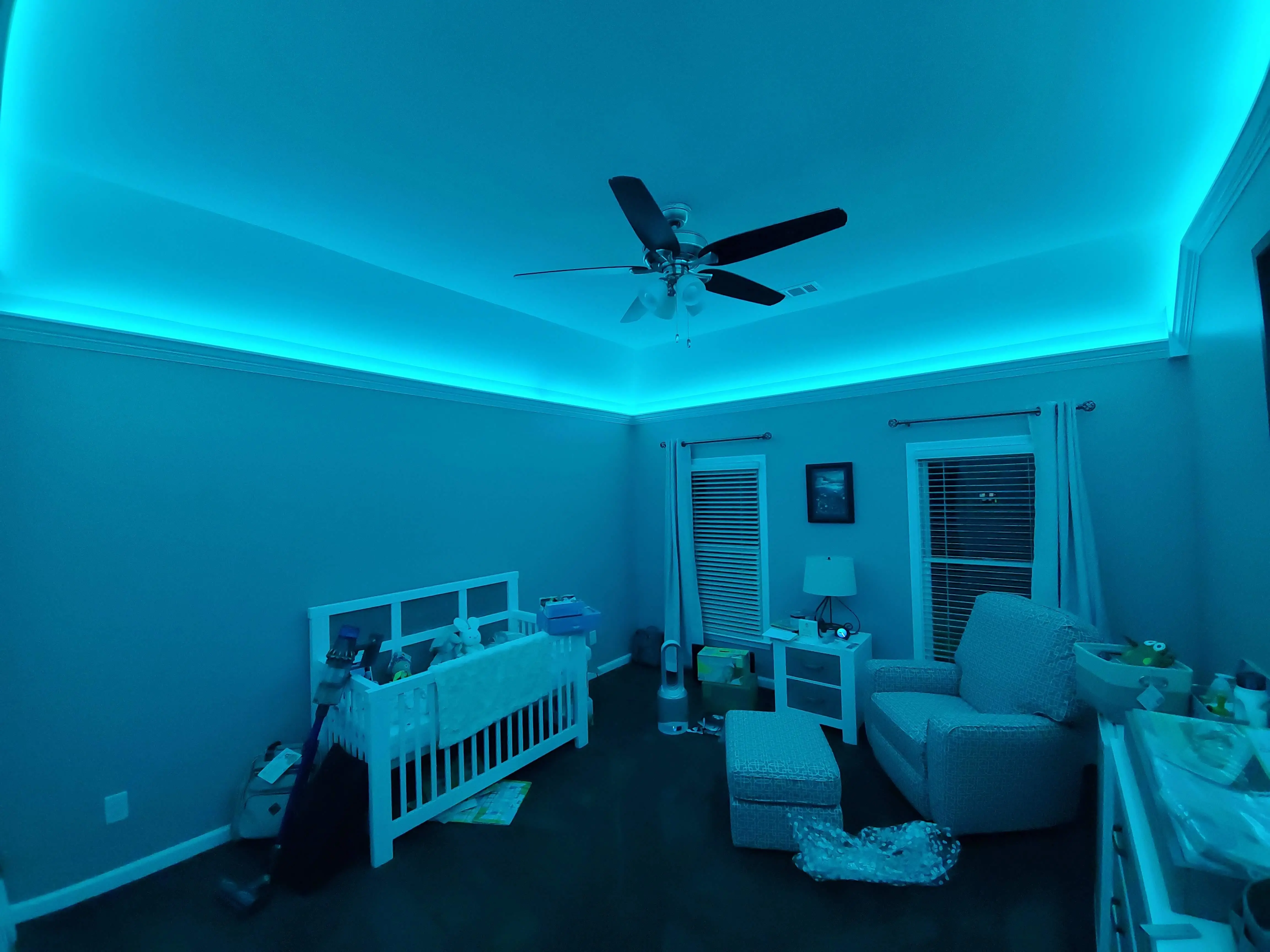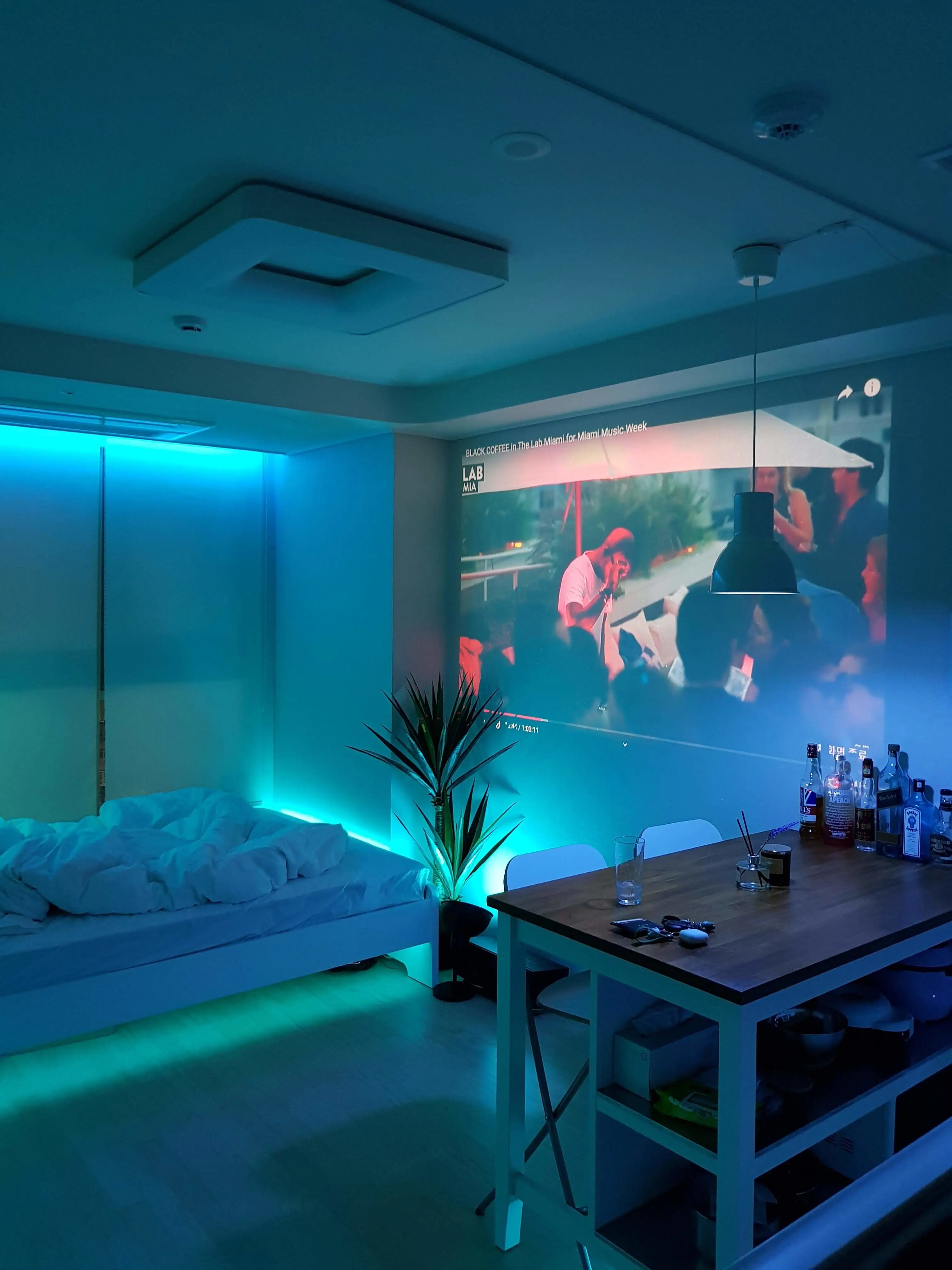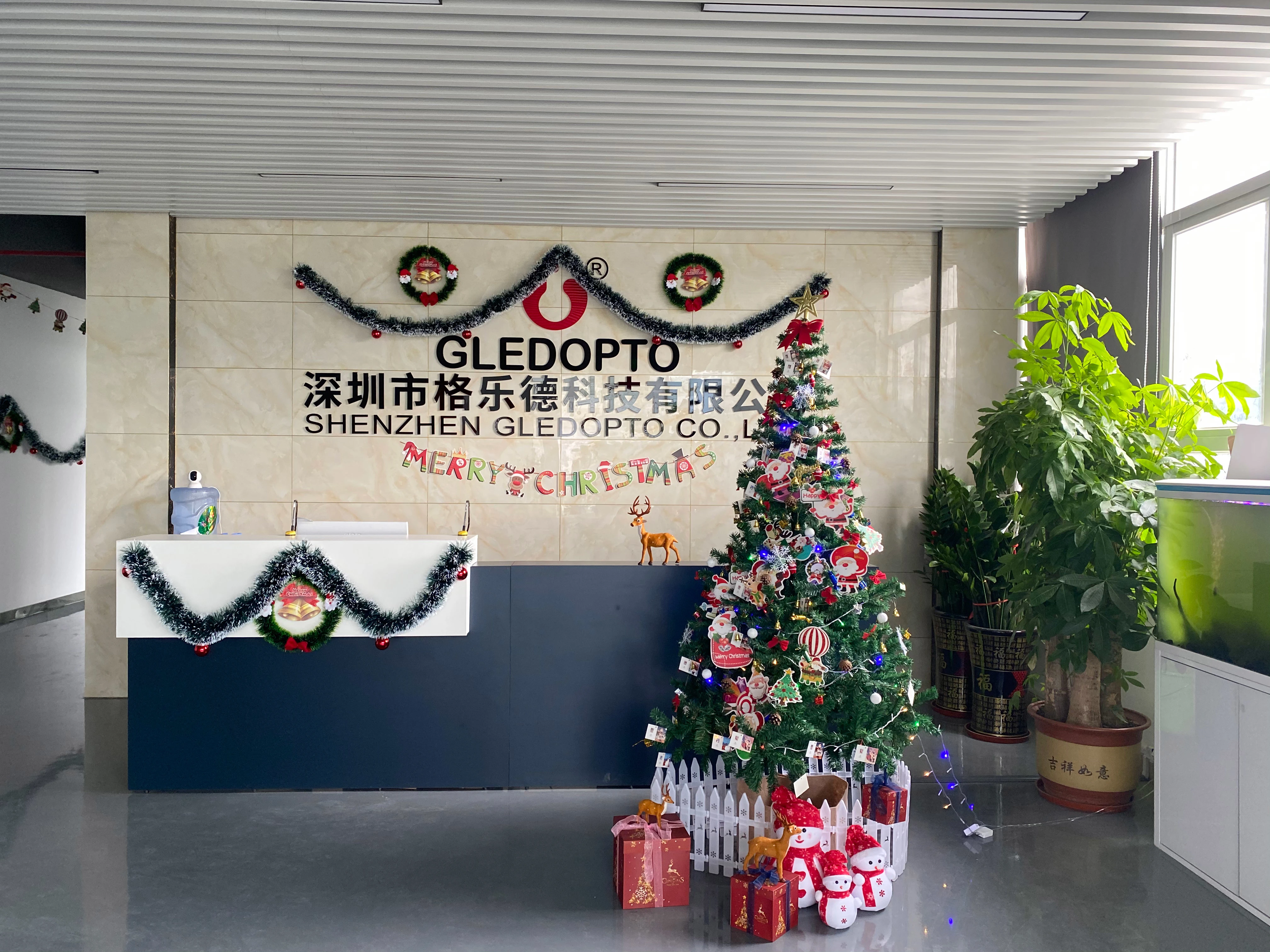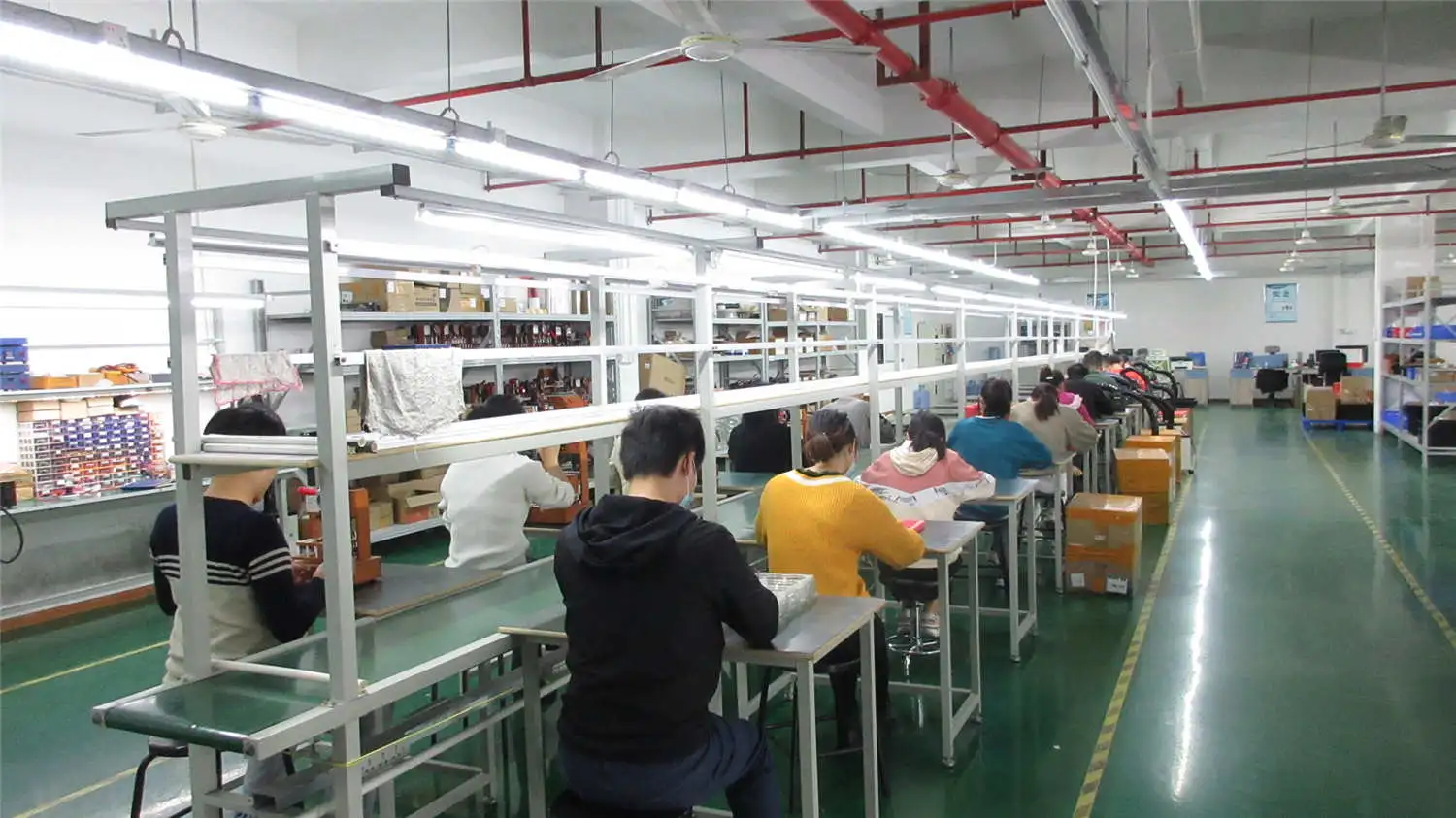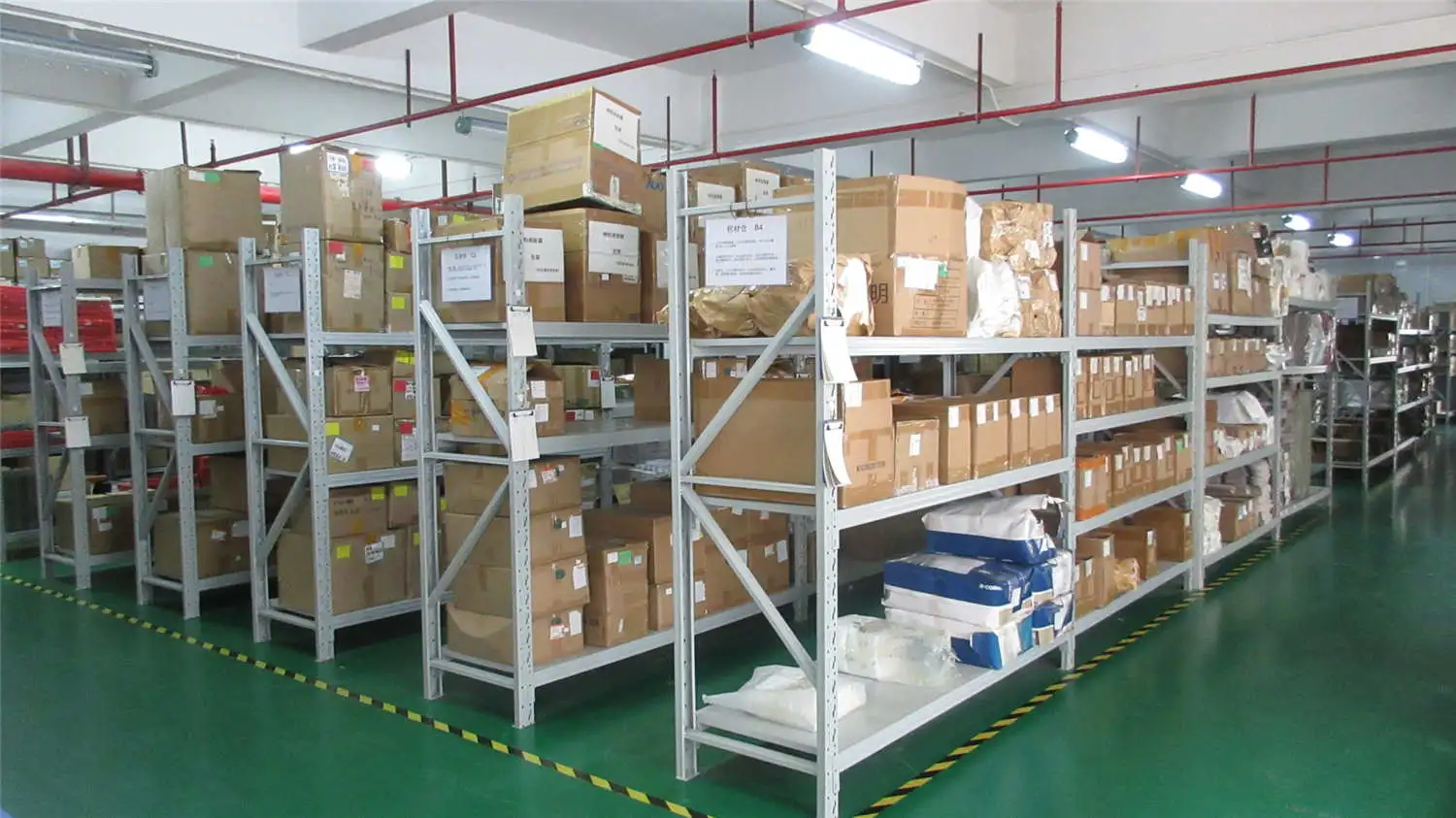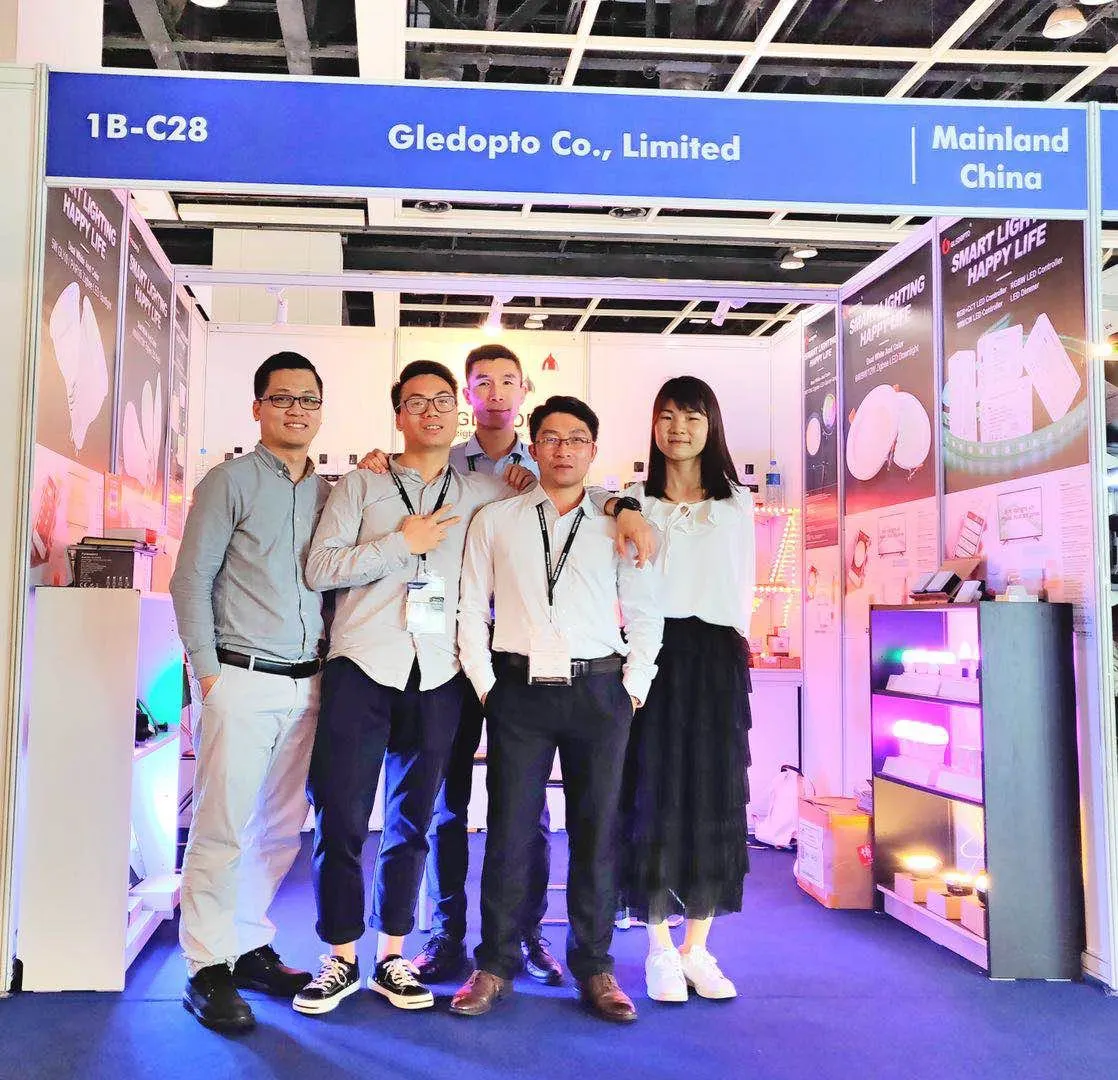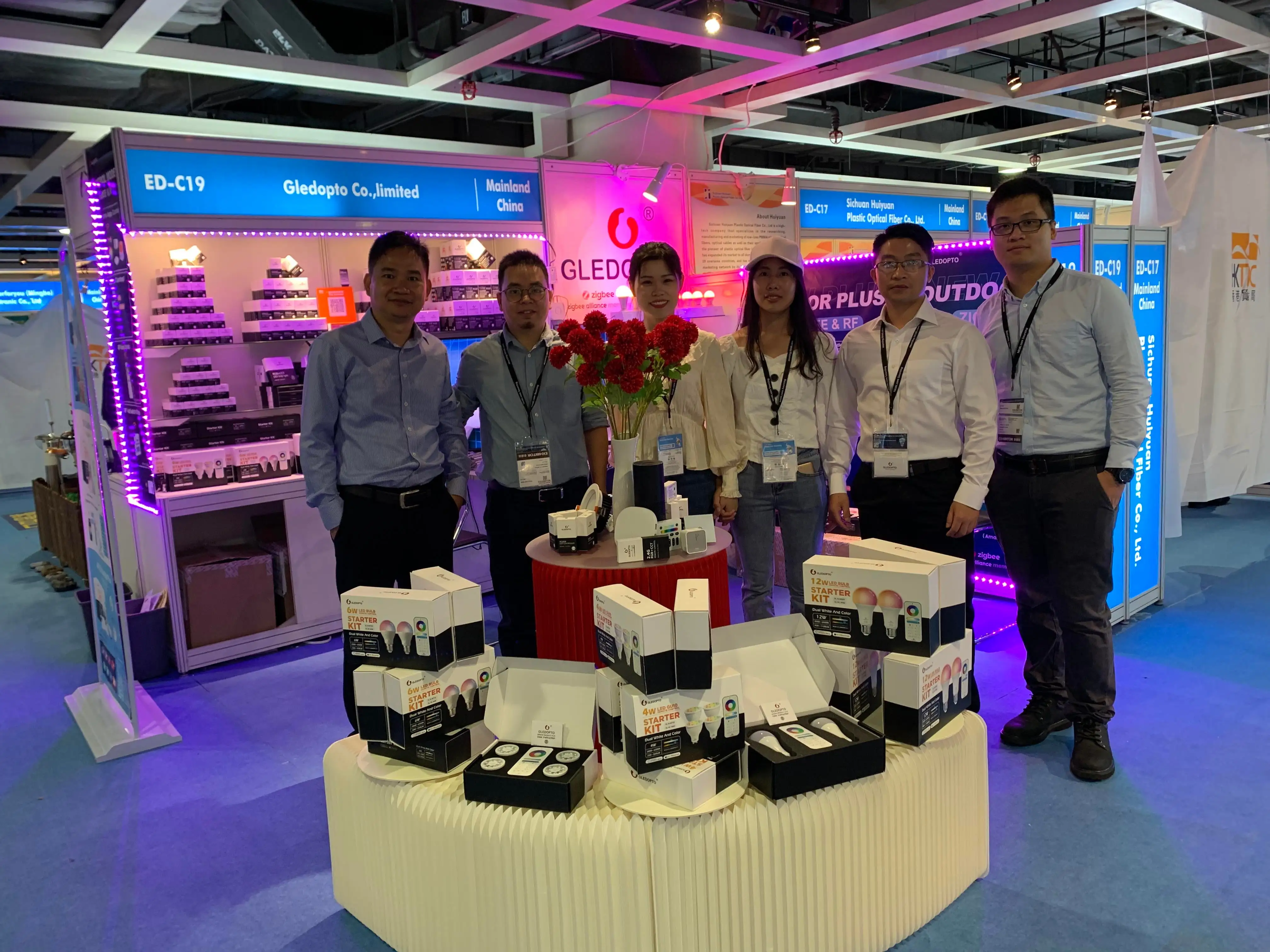 Q1.

how do I link this controller to the SmarThings?
A:Add it smarthings as normal and it will show up as a thing, Then got to the IDE device list and change device type to ZLL RGBW Bulb.
Q2.

Is there a limitation to the length of an LED strip this controller will work with?
A: The limitation is not in the length of the strip, but in the power consumed by the strip. You need to know the voltage and wattage of your strip and power supply. This controller will handle up to 6 amps. So in an LED strip that is 24 volts, you take the voltage, 24, times amperage, 6, and the max for 24 volts is 144 watts. For 12 volt strips, it would be 72 watts.
A safe bet is to use this for one 5 meter strip and if you need longer runs, use an LED strip amplifier. If you're under powering your strips, the end LED's will be dimmer than the start of the strip. If you see that, put an LED amplifier between the strips.
Q3.
Can I change each lights color individually?
A: Yes, you can control Gledopto led light lamps and controllers by Gledopto 2.4G RF remotes, smart wall switches and zigbee smart app at the same time.
Q4.
Are these lights dimmable?
A: Yes, thes Gledopto lamps and controllers can be set to various levels through app. And any of 16 million colors at any brightness you want.
Q5.

Any recommendations for connecting this to 120v ac wiring rather than using a receptacle? 120v ac to 24v dc converter?
A:Yes, it's common to use a 24v power supply that converts AC into DC. The power supply needed will be determined by the voltage and wattage of the LED strip or lights used with this controller.
Q6: Will I be able to change colors via app, or do I need to have the hub to do that?

Some say you need a h-u-e hub and others say you need a h-u-e bridge. Are these the same thing?
You will need a Hub and once you have that an the app, you can change colors and set up lighting routines including times ones.

Previous versions of the product used the name "bridge". More recent versions use the name "hub".
Semi-Automatic PET Bottle Blowing Machine Bottle Making Machine Bottle Moulding Machine PET Bottle Making Machine is suitable for producing PET plastic containers and bottles in all shapes.