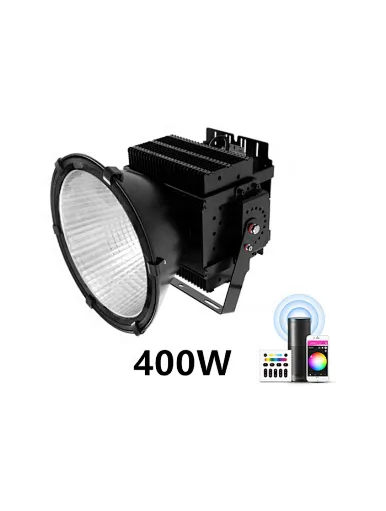 400W ZigBee2MQTT SmartThings Google Home Amazon Alexa Echo Plus Compatible RGB Flood Light 2700K-6500K
price
$700.00 - $800.00 / piece
Place of Origin:China
Brand Name:Gledopto
Model Number:GL-FL-011TZS
Application:Patio, Street, Garden, Yard, Lawn, Porch
Color Temperature(CCT):2700K-6500K
IP Rating:IP65
Lamp Body Material:Aluminum
Beam Angle(°):25
CRI (Ra>):80
Input Voltage(V):AC 100-240V
Lamp Luminous Efficiency(lm/w):72
Lamp Luminous Flux(lm):28500
Warranty(Year):3-Years
Working Temperature(℃):-20~60
Certification:ce, RoHS
Light Source:LED
Support Dimmer:Yes
Lighting solutions service:ZigBee Smart Home Solution
Lifespan (hours):50000
Motion Sensing:No
Remote Distance:≤25 Meters
Size:490*490*590mm
Gledopto ZigBee 3.0 RGB+CCT 400W Flood Light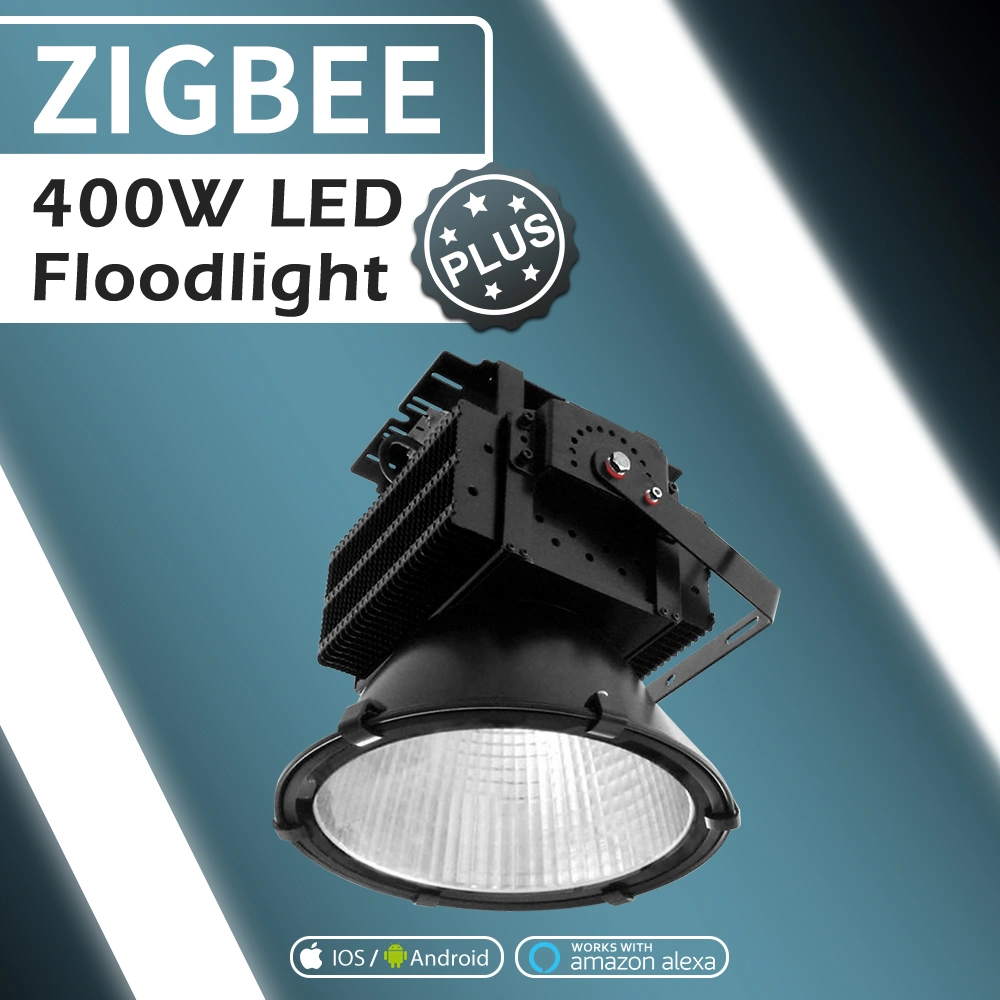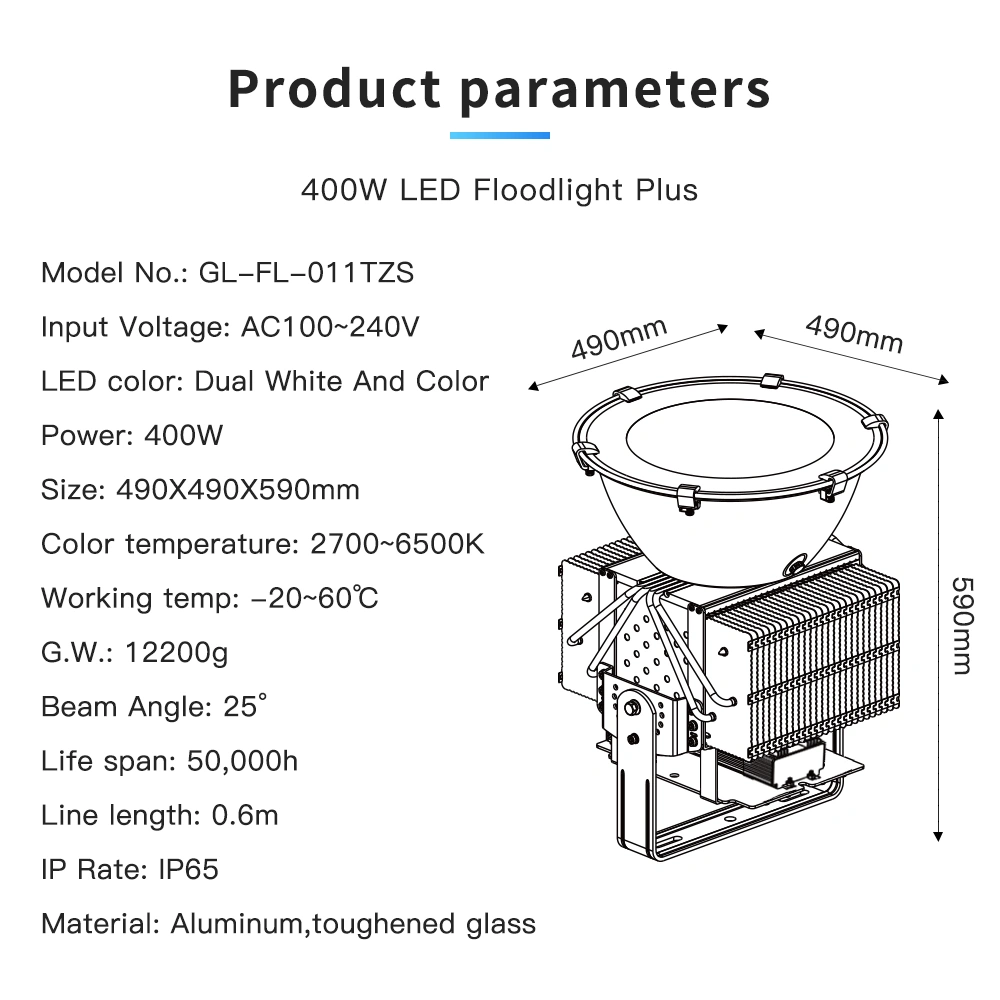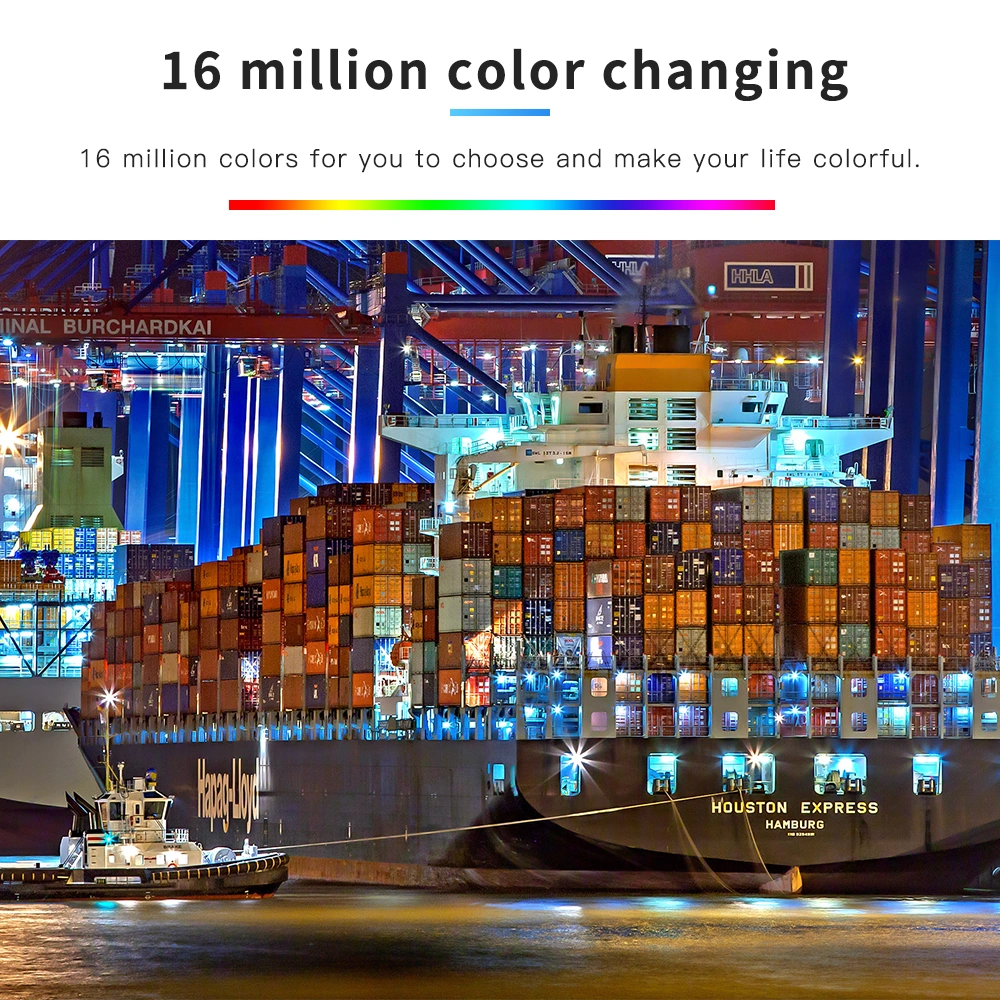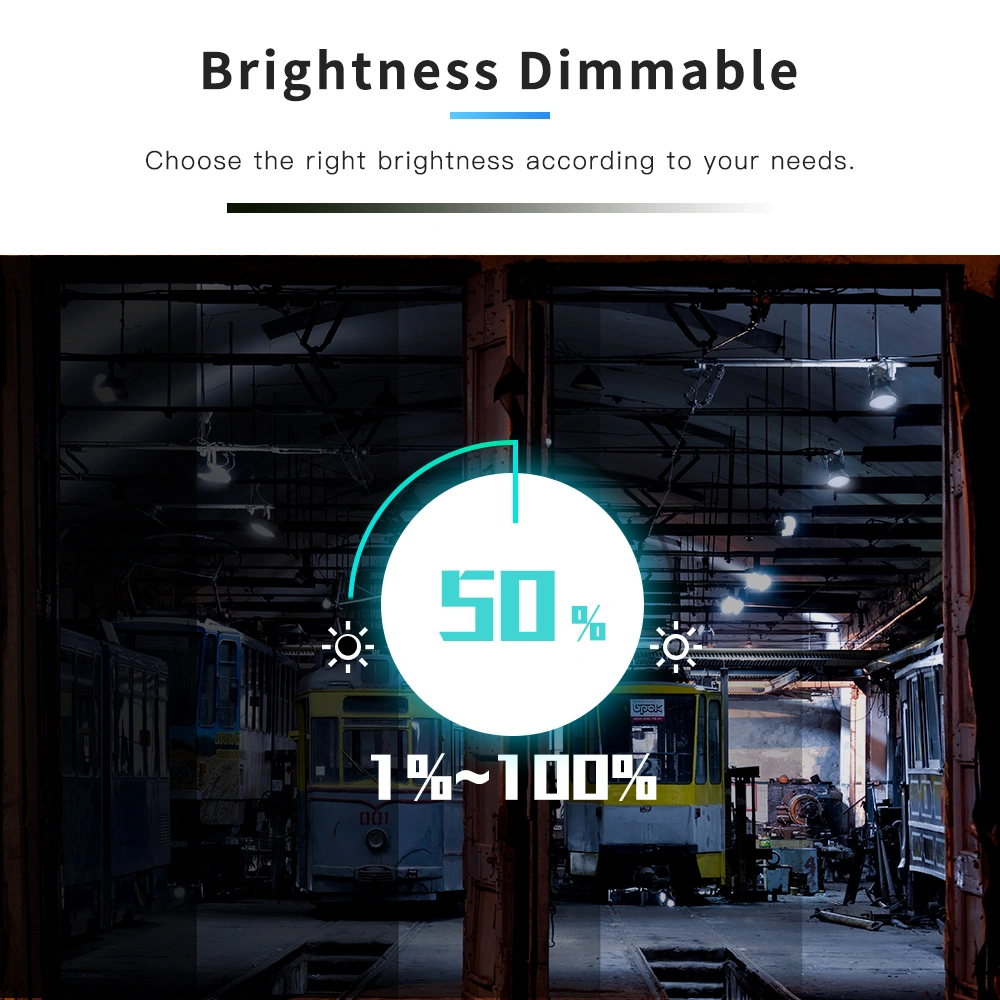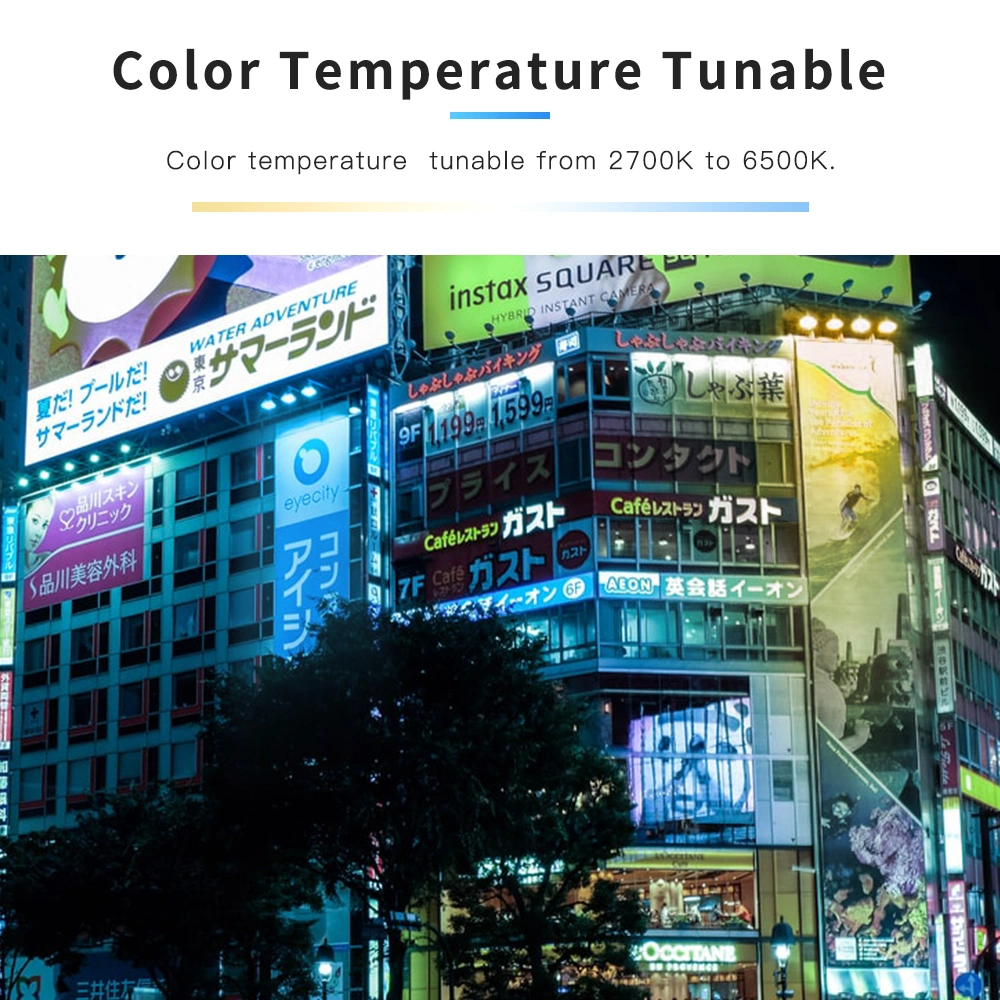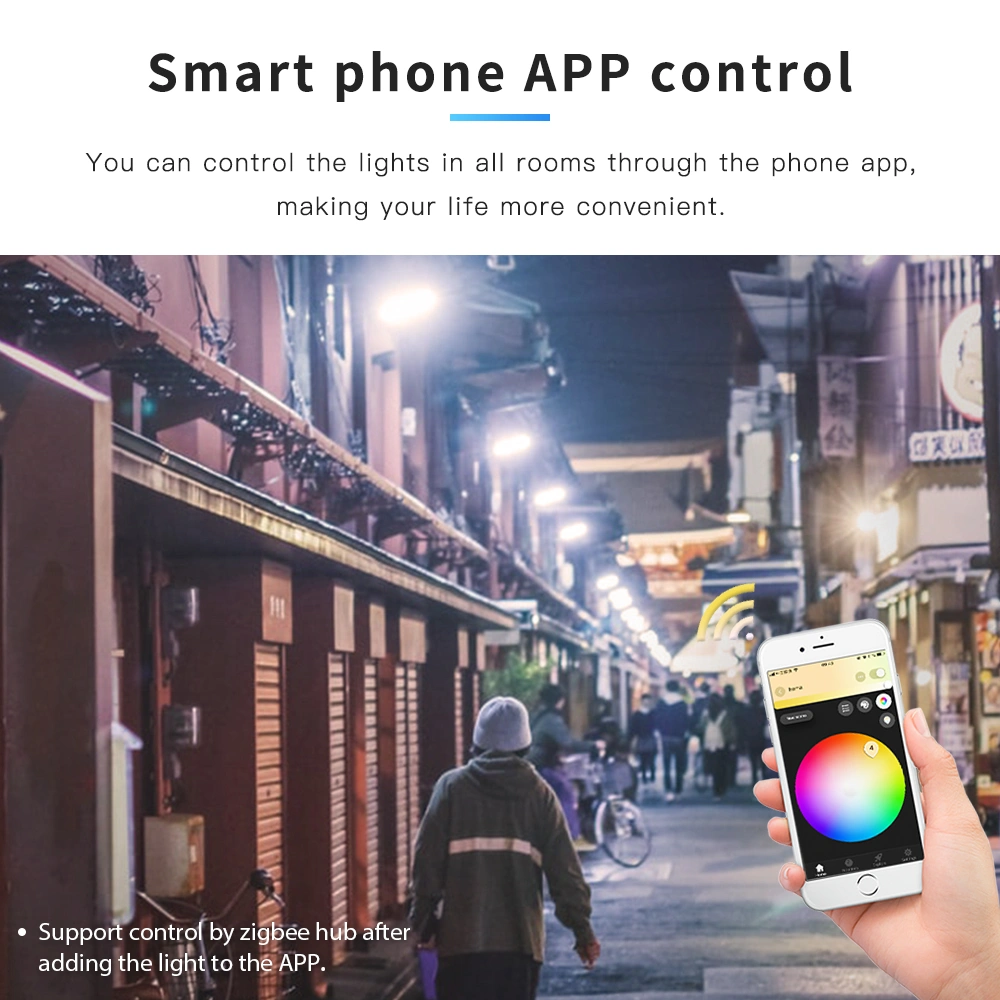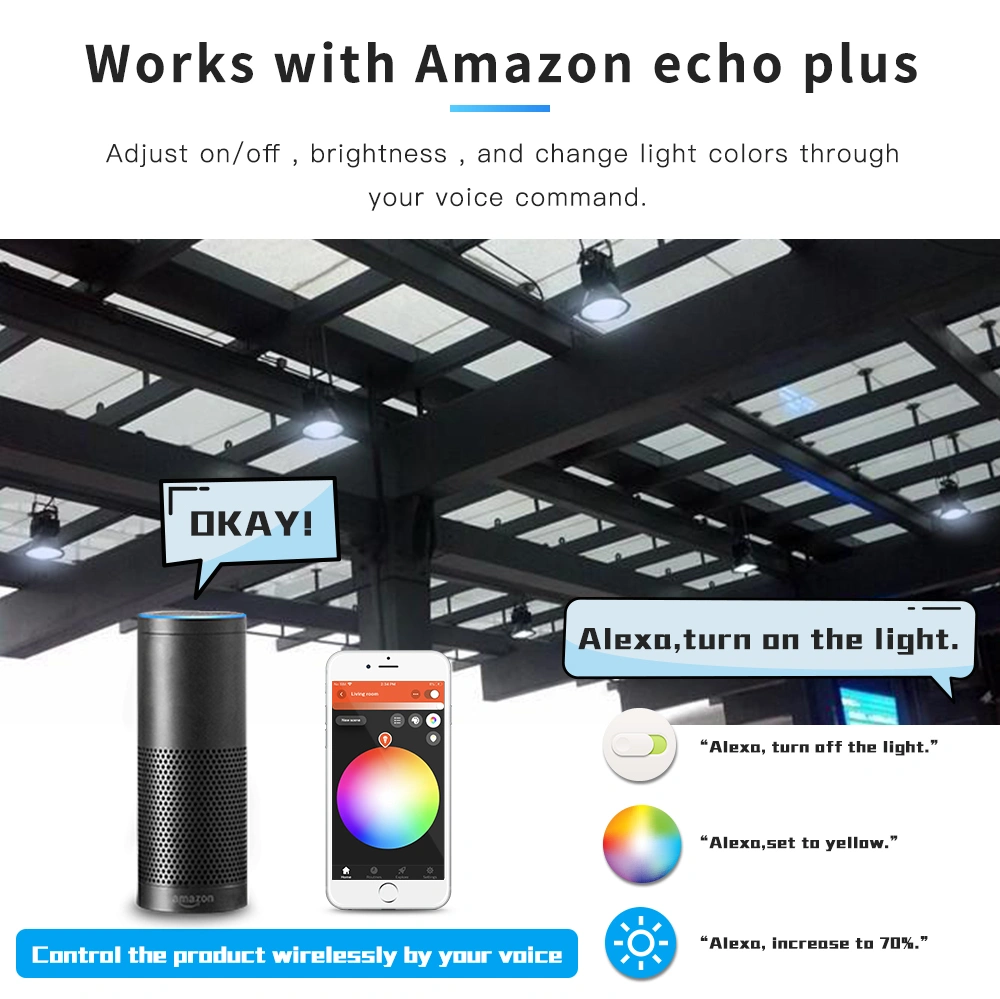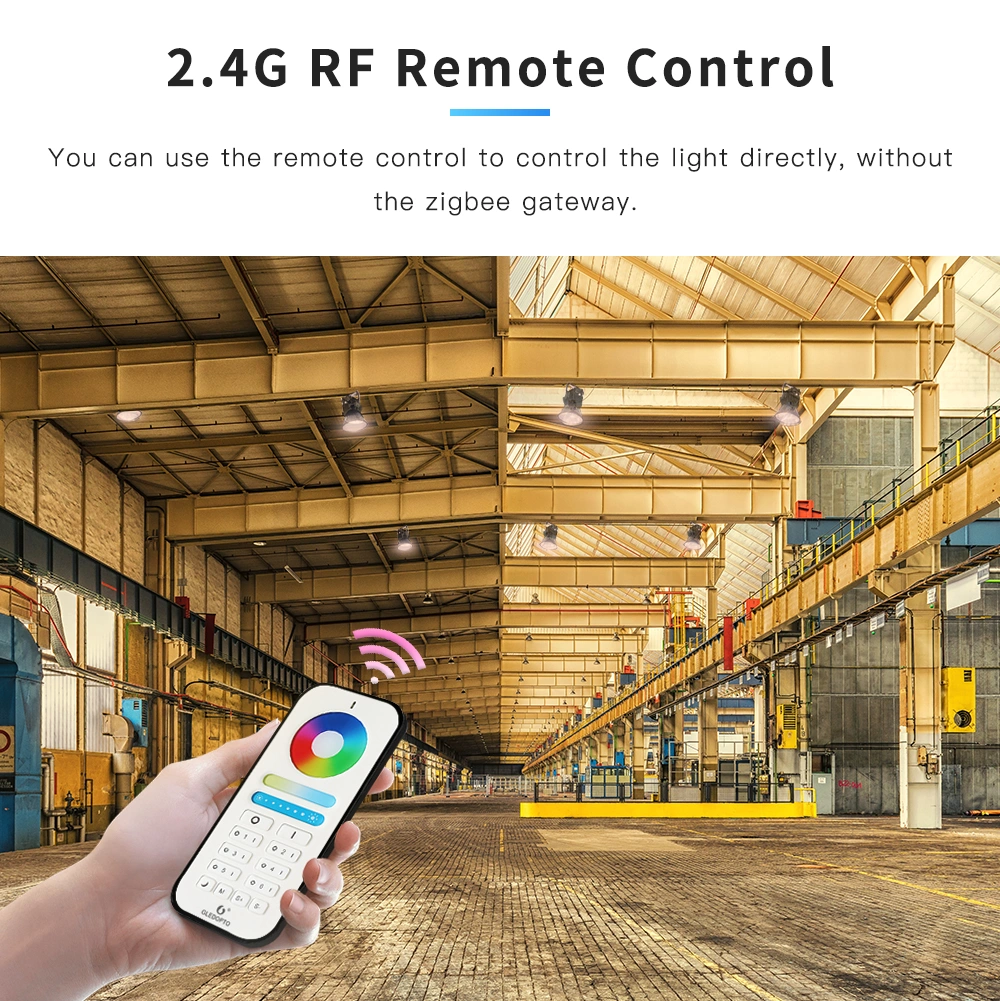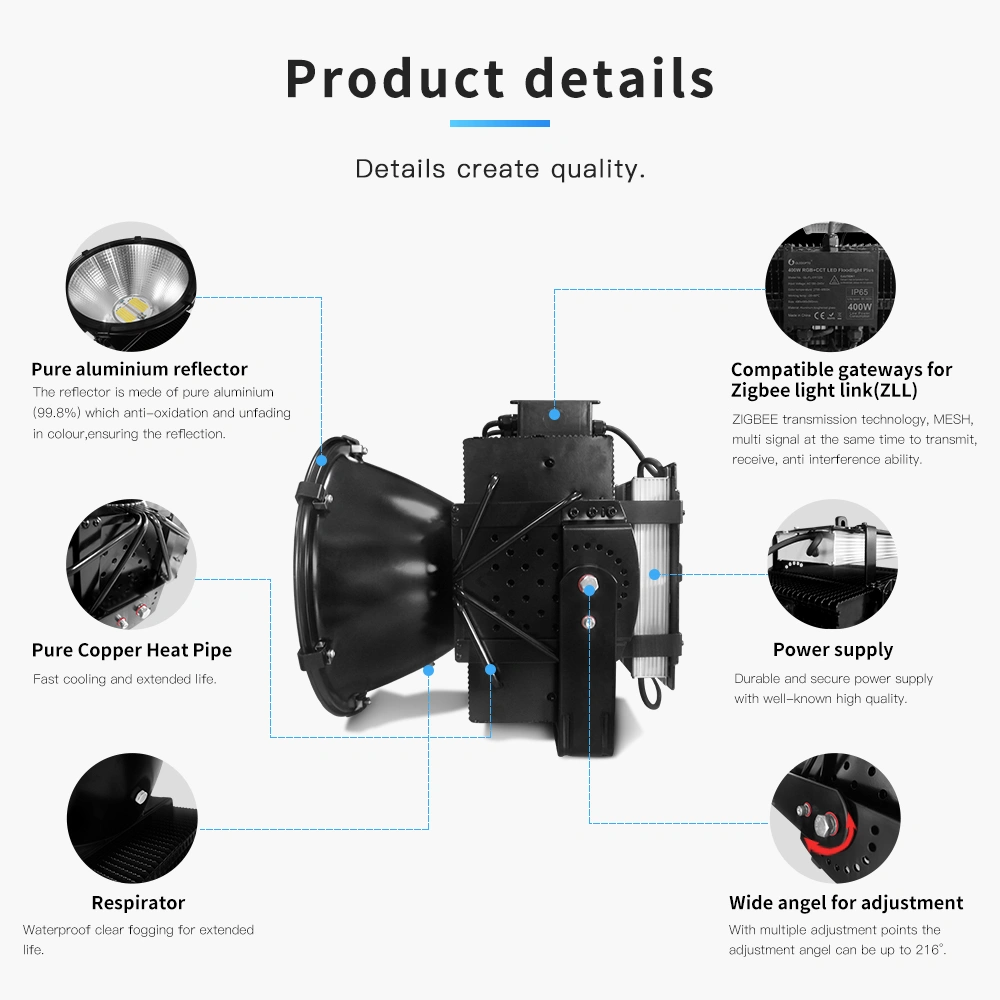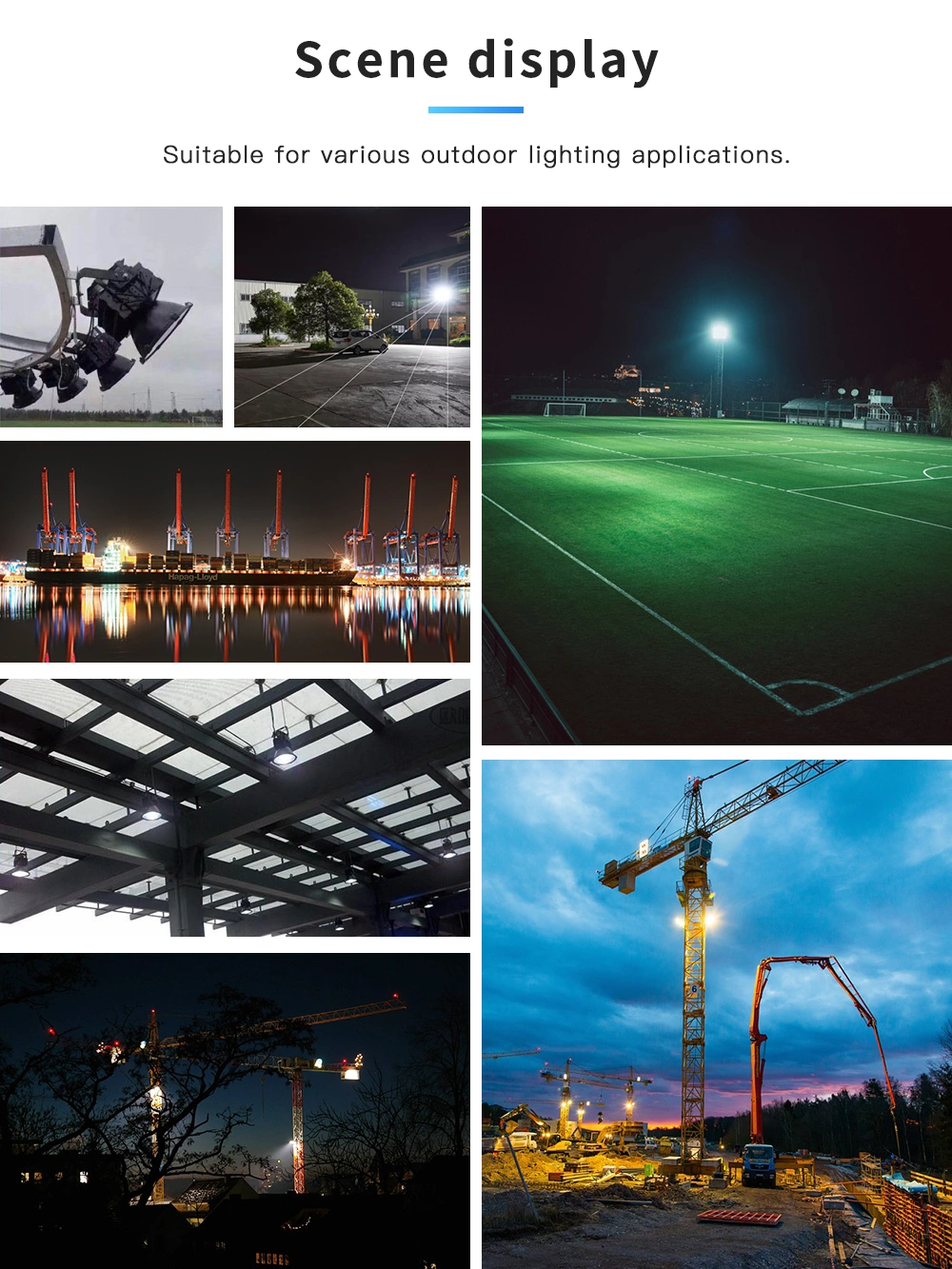 What is Pro?

Pro= Zigbee3.0+RF? (RF control means that these ZigBee 3.0 New 100W, 200W, 400W LED Flood Lights can be controlled by ours or Mi.Light/Miboxer 2.4GHz RF handheld remote control, no ZigBee bridge required)

Yes, but not only that.

First, we changed

IC: TI CC2530 -> -> Silicon EFR32MG21A010F768Im32
Firmware: develop new firmware based on Silicon EFR32MG21A010F768Im32 with ZigBee 3.0 Protocol.

Second, thanks for the kind feedback or complaints in the last years. We have improved the user experience on the below details for the whole collection.

1. The remote range: up to 30m, for led strip controllers/receivers even better.
2. Mesh network: much better than former ZigBee Light Link led lamps we have.
3. Standby power : GU10 spot light, MR16 spotlight, RGB+CCT led candle light≤0.3W; RGB+CCT/CCT/RGBW/Dimmer led strip controllers/receivers: 10mA.
4. Time for power on: less than 1 second.
5. Switch on/off many lights: almost went on/off at the same time.
6. The Min brightness: much darker than ZigBee LL/Plus version we have before.
7. The color under the low brightness: accurate.
8. Sleep/wake up: The transition time is accurate.
9.The transition between white and color: not suddenly to change, much smoother, however you change from CCT to RGB or RGB to CCT.
10. Dimming/color changing: much smoother, also improve based on different platforms including smartThings, Amazon etc, not only Philips Hue.
11. Research after reset: much easier.
Wireless control
With wireless control on your smartphone or tablet, choose the perfect light setting for any mood or activity, such as reading or relaxing, concentrating or energizing. Nine DIY dynamic modes.

Set timers for convenience
Have your Gledopto lights turn on automatically by setting schedules or use sunset/sunrise routine. And of course, you can also turn off or dim your lights this way.

Dimming and brightening features at your fingertips
Control your Gledopto lights with the Gledopto 2.4G RF 6-Zone Remote Control for on/off and dimming functionalities.

Paint your outdoors
Play with 16 million colors and all shades of white light to create the effect you want. Highlight objects, trees or pathways to make your space stand out.

LED bulb technology
Designed to provide longer, more energy-efficient illumination.

Control it your way
Connect your Gledopto lights with the Bridge and start discovering the endless possibilities. Pair it for home automation with your existing Hue products, SmartThings, Hubitat, Homee and ConBee II system.

Control your lights with your voice
Works with Amazon Alexa, Homekit and the Google Assistant.

Easy installation
Simply place the product in the desired location, connect it with neutral wire, live wire and ground wire, and pair it to your ZigBee Tuya hub or ZigBee Light Link/ZigBee 3.0 Hub.

Weatherproof
This IP65 outdoor fixture is specially designed for use in outdoor environments and has undergone rigorous tests to ensure its performance. This means the product is suitable for use in wet locations.

Requires a Zigbee 3.0 or Zigbee Tuya Hub/bridge
Connect your Gledopto lights with the Hub/Bridge to control your lights from your smartphone or tablet via the zigbee smart app.
Lighting Features of Gledopto

White and Colour Ambiance Smart Floodlight LED 10W, 30W, 60W, 100W, 200W, 400W Works with Alexa Echo Plus, Philips Hue, SmartThings, Homee, Smart Friends, Zigbee2MQTT, ConBee II and Google Assistant
1. Switch between multiple lighting modes at will.
2. Rich lamplight atmosphere, give you more pure and fresh sense, available in Timmer & night light mode option.
3. Brightness and color temperature dimmable/adjustable from warm white 2700K to cool/cold white 6500K.
4. Customize your colorful life, 16 million color saturation changes, make life full of beauty.
5. Home or Away lighting mode, to remote control the smart LED bulb even away from home, to ensure the saftety of your home.
ZigBee3.0 Lighting Control Features
Gledopto Zigbee LED Lamp and Controller directly work with Hue, Amazon Echo Plus, Smartthings, Osram Lightify, Homee, Google home & all other alexa devices. Apps work with Hue gateway: Hue, hue party, hue Disco, iConnectHue, Hue Widget, Light DJ, etc.
Work with Home assistant & Homekit:
Please visit Reddit and search for GLEDOPTO for more detailed introduction of how to link to different ZLL/ZigBee 3.0 gateways and hubs.
Housing Material
1. High Quality Epistar LED Chip, low heat dissipation, high brightness, durable and long lifespan up to 50,000hours
2. Adopt high-grade PC Cover, 93% lighting transmittance, uniform light distribution, no dark spot, no glare
3. ZigBee ZLL Protocol controlling technology, multi signal transmitted at the same time, lonng smart remote control distance, anti interference feature.
4. AC100-240V universal input design; Constant Current output to provide stable voltage & Curent to Light source.
5. Full Aluminum housing material, low heat emittion, no welding process to ensure the product quality.
Sync Effect with screenbloom
Sync your lights with movies, music, and games, Enjoy the lighting effect which synchronizes with the plot of the picture immediately, and experience the more delicate atmosphere lighting effect.
Application:
Porch, Landscape, Patio, Lawn, Wedding Background, Bar, Studio, Club Mood Lights, Indoor or Outdoor Uplighting, Halloween & Christmas Lamp, LED Wash Light, LED Stage Light(NO DMX512),

Theatrical Light.
How to link & use with Remote Control
1. Within 3 seconds after power on, click the"on"button of the group to conduct code matching, and the LED light turns green, indicating successful code matching.
2. Long press the"off"button of the remote control to enter the night light mode, and the brightness and color can still be adjusted at this time.
3. Long press the small moon key to enter the 60 seconds delay shutdown state.
4. Long press M key to enter automatic mode.
1. If the LED is still connected to the ZigBee gateway, long press the"on"button on the remote control within 3 seconds after power on or press the button for 5 times continuously, the light will flash for 5 times in the current color.
2. If the LED is not connected in the ZigBee gateway state, long press the"on"button on the remote control within 3 seconds after power on or press the button for 5 times continuously, then the LED light will be fully bright and flashing for 5 times.
1. Master ON( I )/OFF(O)
Acts as a master ON( I )/Off(O) control for all zone-linked RGB+CCT/RGBW lights. Also activates the "Master" function, which allows the remote to control the RGBW lights of all zones. If a zone is currently active, pressing the master On(-) button restores the "Master" function to the remote.
2. Color Selection Ring
Directly selects color along a circular spectrum. To obtain white light only, keep the "Zone On" (|) button depressed until the light changes to a steady bright white.
3. Selection LED Indicator
Flashes once to indicate when a command has been selected.
4. Brightness Touch Slider - Increase(Right Side)/Decrease(Left Side)
Increases(right side) or decreases(left side) the brightness level. Changing the active mode resets the brightness level to full.
5. Mode Start/Scroll(M)
Modes feature different color combinations, light transitions, and patterns, with 9 distinct modes. This button initiates the Mode function and scrolls through the modes in ascending order.
6. Mode Speed - Increase(S+)/Decrease(S-)
Increases (S+)/decreases(S-) the tempo of the mode pattern currently active.
7. Zone On(|)/Off(O) - Zones 1-6
Allows up to Six "zones" (i.e. channels) of RGB+CCT lights to be separately linked and controlled by the remote. Pressing one of the Zone On(|) buttons activates that zone; commands will affect only lights in that zone. Once linked to a zone, lights remain linked until they are unlinked. Steadily depressing the Zone ON( | ) button restores the lights in that zone to white.

Note: The wireless remote operates using radio frequency. The remote controller's use is not restricted by normal obstructions, such as walls, doors, etc. Once programmed they can be installed anywhere in range of the remote (up to 65 ft. or 20m).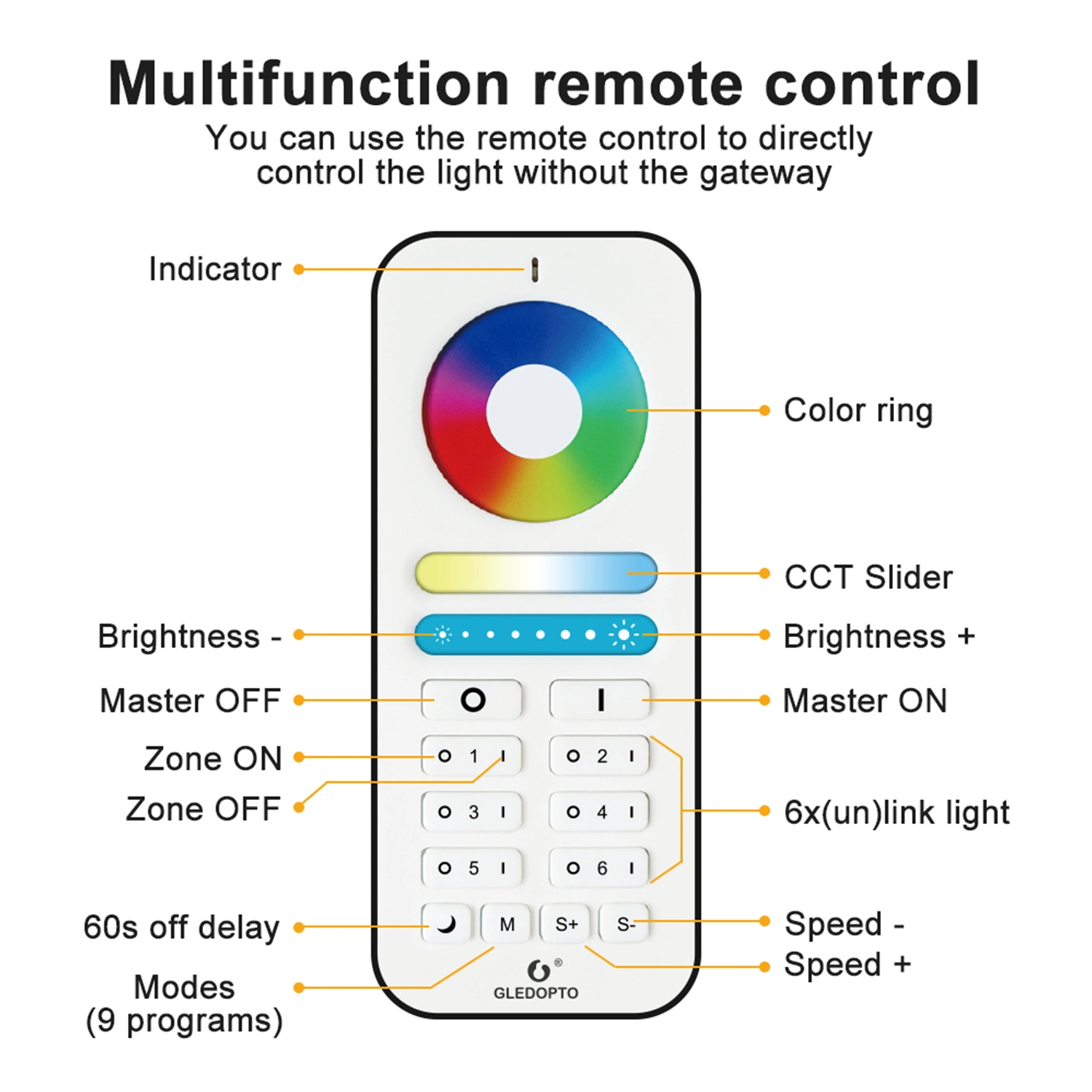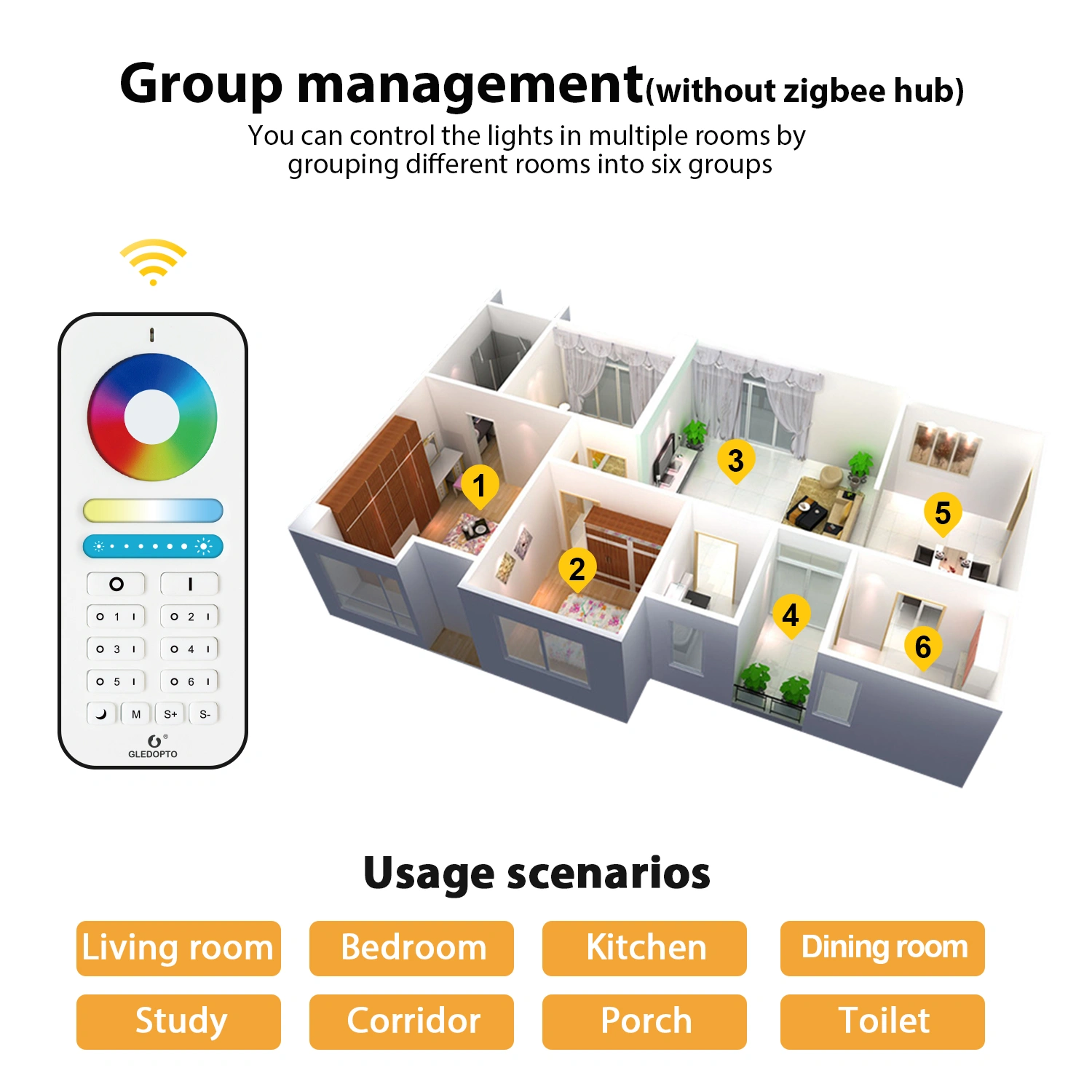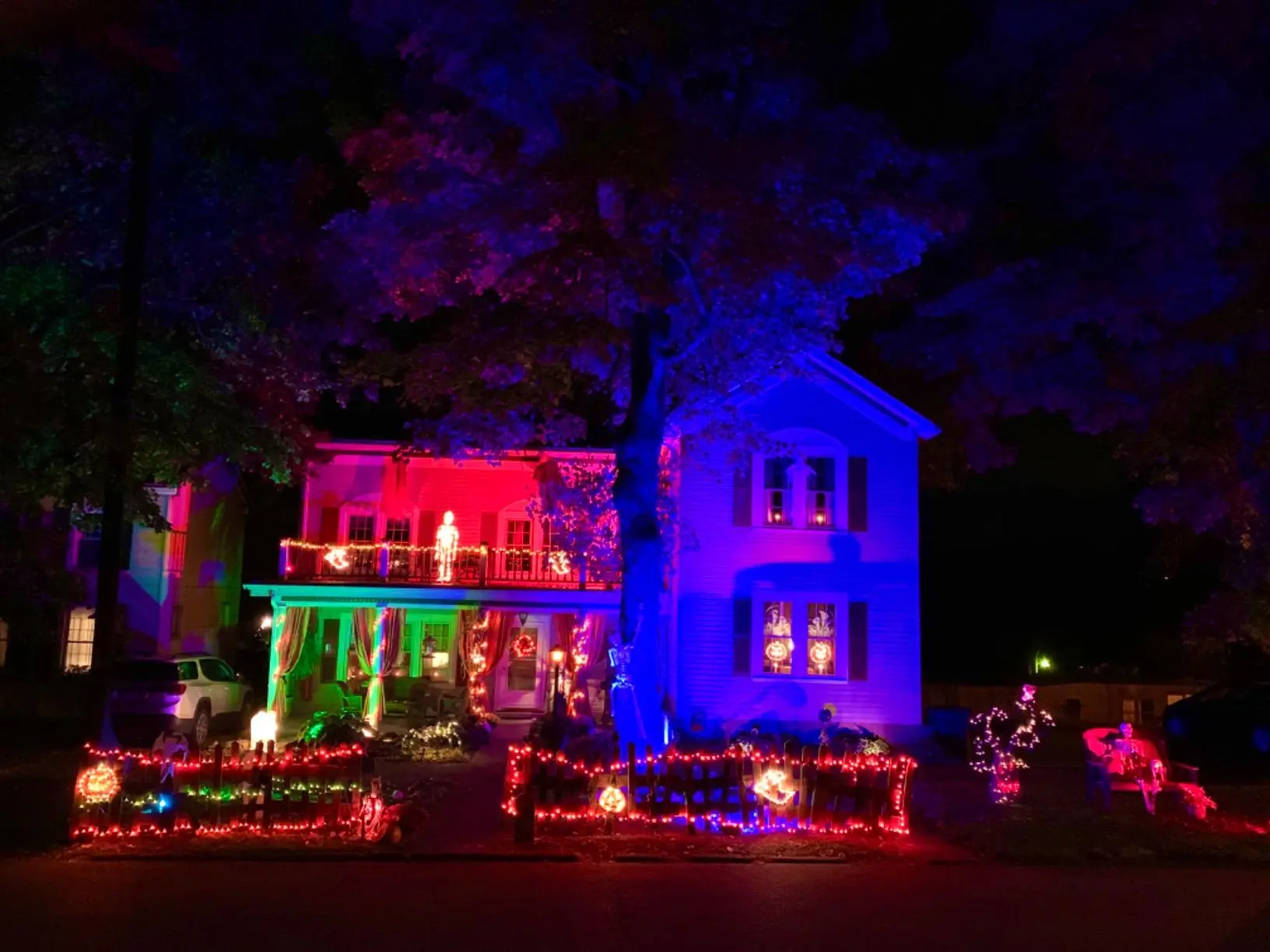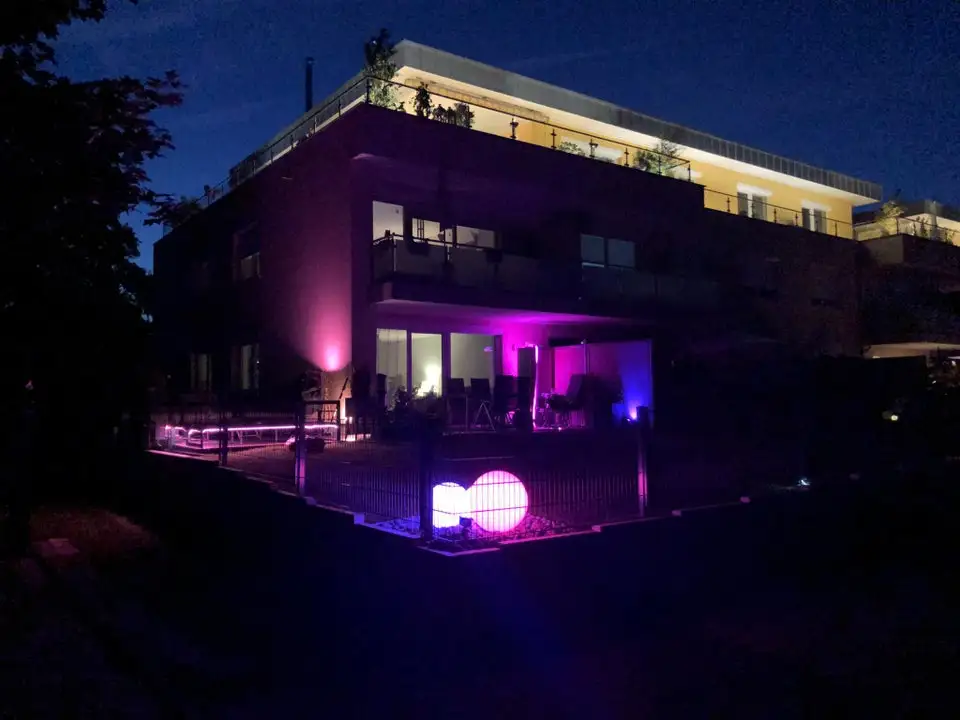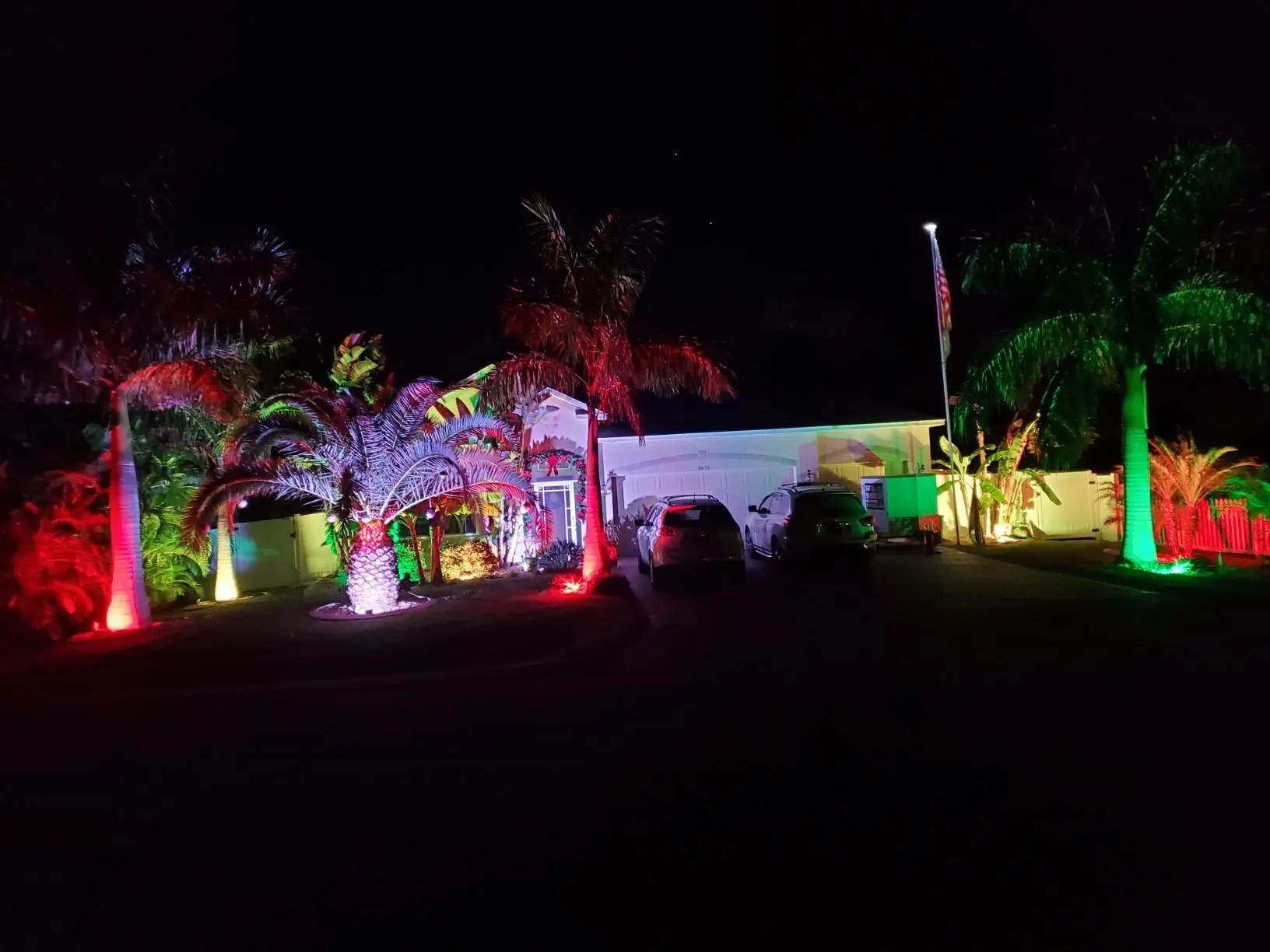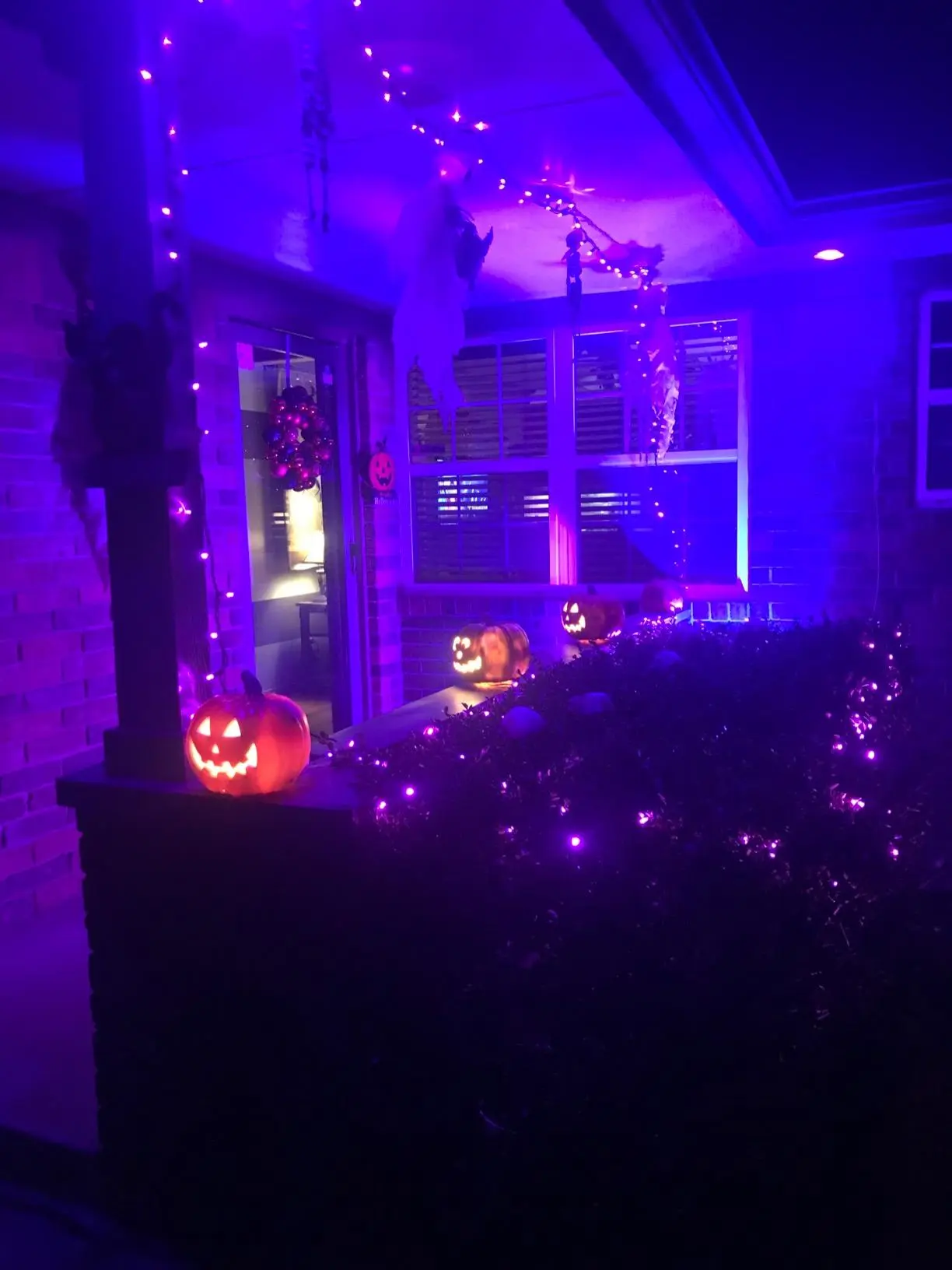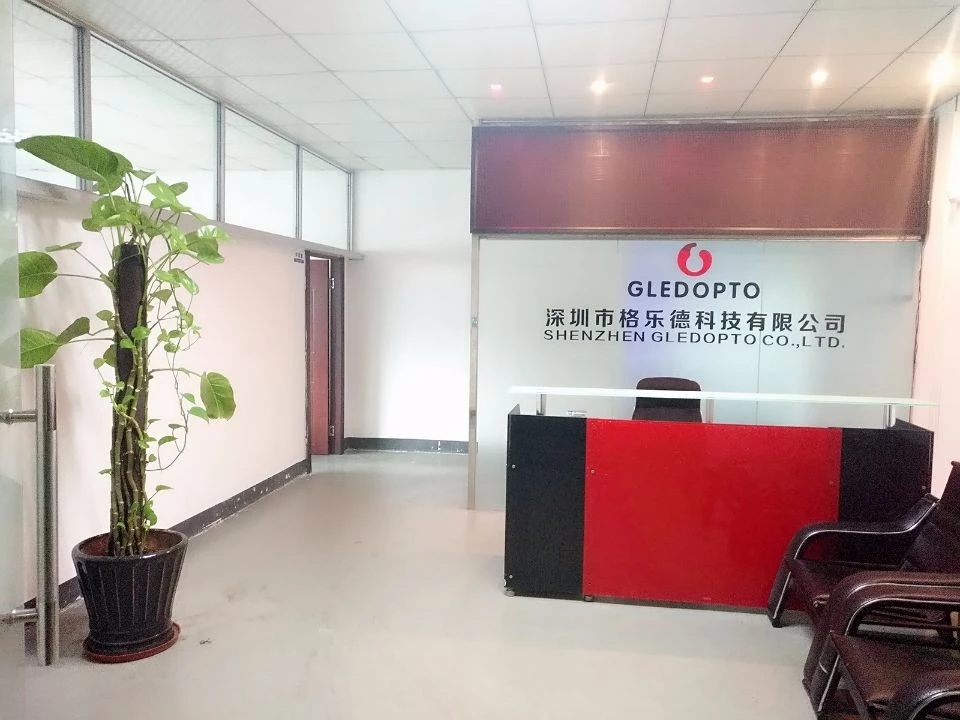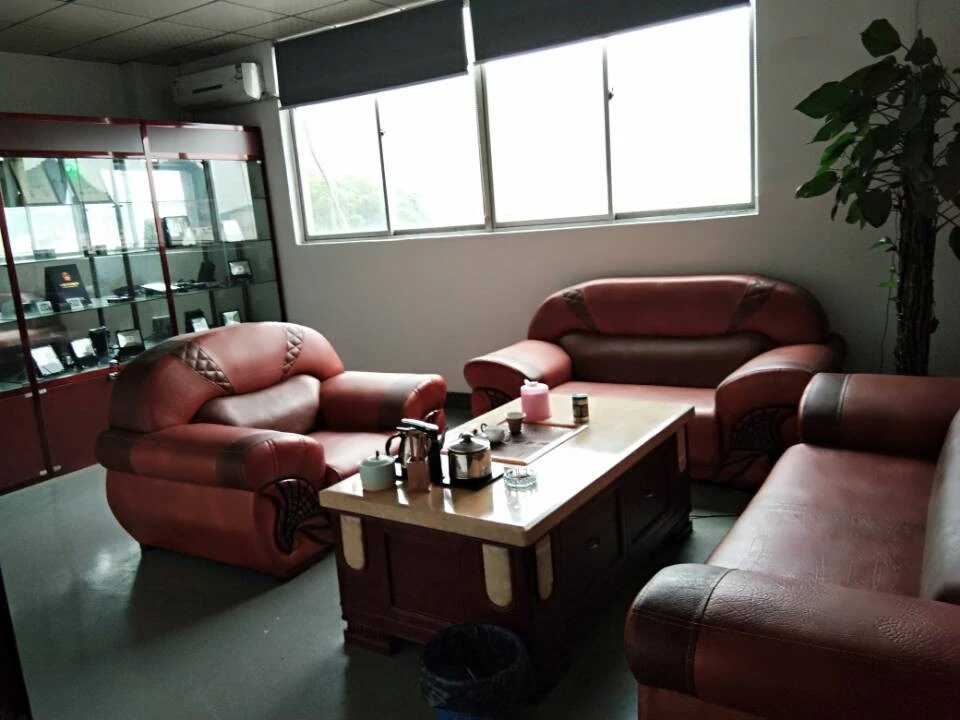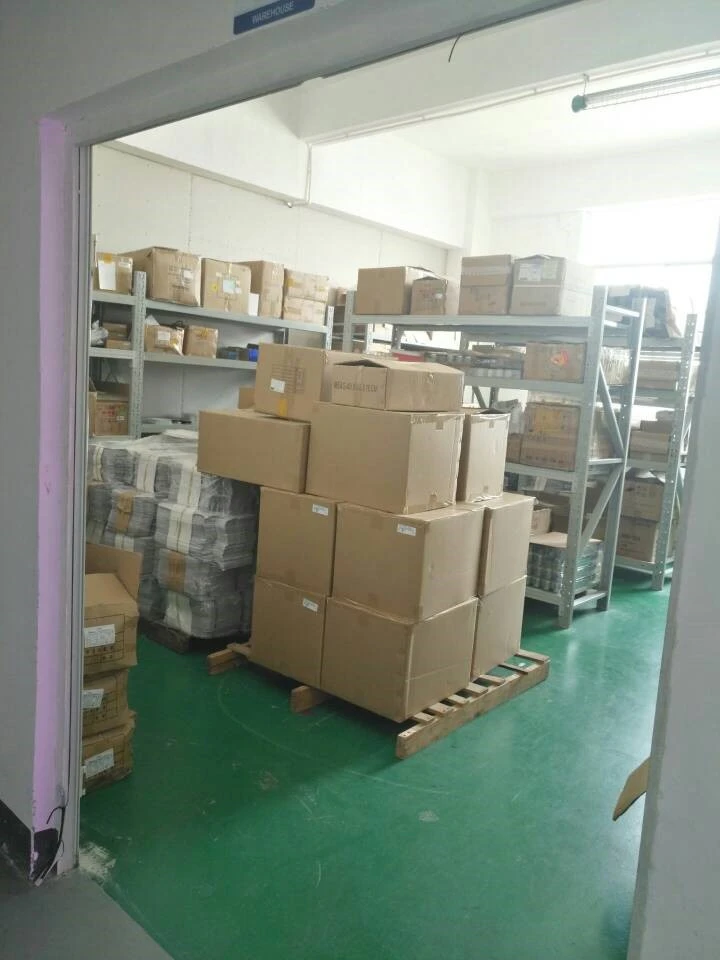 Q1. Are there any mounting options besides stake mounting? I'd like to walk mount these to the underside of my deck.
A: There's no other mounting options that come with it, but the stake unscrews from about a 1/4 inch threaded nipple that is open in the center. It is possible to put a nut and bolt through there. The opening is about 1/2 inch wide so it could take a big screw to hold it securley. It also comes apart at the pivot joint but that may be harder to fashion something. I know there are mounting plates available from other companies, but I'm not sure of the size and thread of those.

They can be installed two ways. A metal spike attaches to the base and can be pushed into the ground. The second method is attaching them to a wall or other fixed object via the base plate. The base plate and spike are interchangeable and both screw into place on the bottom of the light. They are very sturdy on the spike that is in the ground around my landscaping. You use them to wash the house with light.
Q3. How long is the cable that comes with this light and does it have a plug?
A: Each one has a 10 ft power cord with a plug on the end. But floodlight do not come with plug.
Q3.
Can I change each lights color individually?
A: Yes, you can control Gledopto led light lamps by Gledopto 2.4G RF remotes, smart wall switches and zigbee smart app at the same time.
Q4.
Are these lights dimmable?
A: Yes, thes Gledopto lamps can be set to various levels through app. And any of 16 million colors at any brightness you want.
Q5.
Is this multi voltage?
A:Range 100 V - 240 V, 50-60 Hz
Q6: Will I be able to change colors via app, or do I need to have the hub to do that?

Some say you need a h-u-e hub and others say you need a h-u-e bridge. Are these the same thing?
You will need a Hub and once you have that an the app, you can change colors and set up lighting routines including times ones.

Previous versions of the product used the name "bridge". More recent versions use the name "hub".
Q7:

Can these be mounted inside a screened porch or must they be staked in the ground?
A: They can be mounted. They come with both options for staking or mounting.